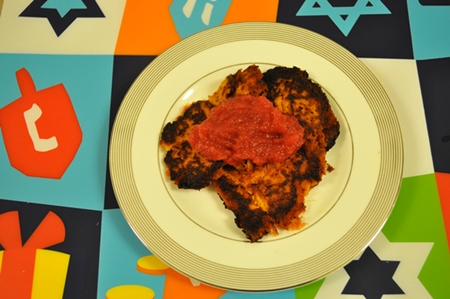 Tonight's the third night of Hanukkah and if you're anything like me that means it's all about the potato pancakes. Yes, the entree is important but when it comes to the Festival of Lights the most important food really is the potato pancake.
Now I'm a big fan of the classic Russet potato version, but every so often I like to change things up a bit. Last year I made these Potato and Green Onion Latkes and the green onions added such a nice flavor I'm making them from now on. Anyway, this year, I decided to try sweet potatoes. Oh. My. God. They were good. So today I'm bringing them to you. Make them! You won't be disappointed.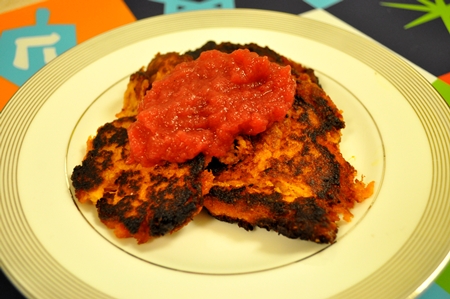 Sweet Potato Latkes
Ingredients:
3 yams
1 egg
1/2 cup matzoh meal
2 tsp allspice
vegetable oil for frying
Directions:
Roast the yams in the oven at 400° F for 1.5 hours. Scoop the soft meat out of the skins and transfer to a large bowl.
Add the egg, matzoh meal, and allspice and whisk together until smooth.
Heat oil in a large skillet over medium-high heat. Take a large spoonful of the sweet potato mixture and make a patty, Place in the oil and fry for 2-3 minutes per side. Watch them because they can burn quick! Place on a paper towel lined plate to drain. Serve with cranberry applesauce.