Tom & Jerry Cocktail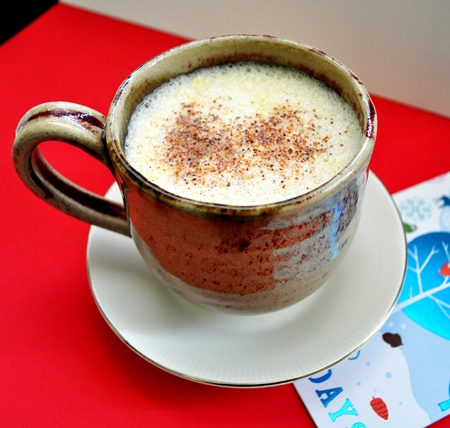 I know it's been awhile since my last classic cocktail post and for that I apologize. But I figured what better month to start them back up again than December, the month of holidays and parties galore. If you're anything like me you have at least one part you'll be attending (or throwing) and so you're going to need a list of classic cocktails at the ready for this festive season.
There are always the classics, like Hot Chocolate with Baileys, Eggnog or Mulled Wine. And while those are all delicious choices that are always at the top of my cocktail list, why not try something a little out of the ordinary? They're still perfect for this festive season, but you won't run the risk of the host running out.
Today's classic is the Tom & Jerry. It's actually just hot eggnog that was created in the 1820's by sports writer, Pierce Egan. He supposedly named it after his book, Life in London, or The Day and Night Scenes of Jerry Hawthorn Esq. and his Elegant Friend Corinthian Tom. All he did was add brandy to the rum-based eggnog. However there's also the theory that the drink was named after Professor Jerry Thomas, a celebrated bartender at San Francisco's Occidental Hotel in the 1860's. But it most definitely was not named after that famous cat & mouse cartoon of the 40's and 50's.
The drink became so popular in the mid 1800's that pubs were often referred to as Tom & Jerry's. Another popular practice that stemmed from the beverage (although I have no idea why) was smashing the mugs once the drink was consumed. Unfortunately that tradition died out sometime in the 1950's, probably due to Tom & Jerry mugs ending up on the endangered species glassware list.  So while the cocktail is usually served in a specific Tom & Jerry mug, if you can't find one, a regular coffee cup or your favorite hot chocolate mug are perfect substitutes.
So, if you're already planning on having a large punch bowl full of eggnog at your holiday party, why not split the drink in two and serve one that's cold and one that's hot? I can't think of a better way to drink and be merry this holiday season.
Tom & Jerry Cocktail
Ingredients:
1 egg
2 tsp. powdered sugar
1 oz dark rum
1 oz brandy
3/4 cup hot milk
grated nutmeg for garnish
Directions
Separate the egg white from the egg yolk and beat them separately. Fold them together and pour into mug.
Stir in the powdered sugar, rum and brandy.
Pour in the milk, sprinkle the nutmeg on top and drink to your heart's content.