Cheesy Apricots in Blankets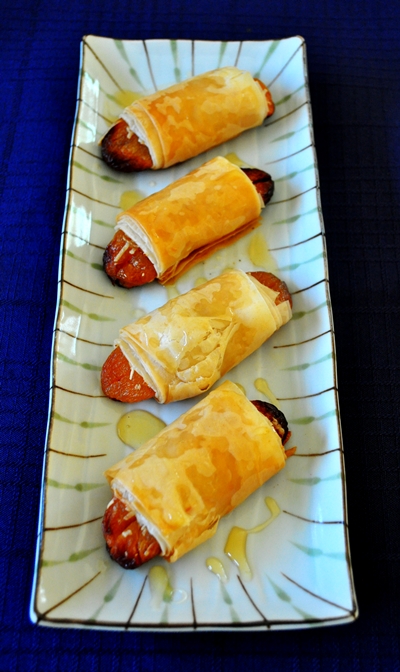 If you know anything about me you know I love cheese. Soft cheeses, hard cheeses, even those cheese slices wrapped in cellophane. Yes, it's true I do like those Kraft slices, please don't judge me. But back to the cheese. I love trying new cheeses on their own and also creating recipes with those cheeses. So when the Italian company behind Grana Padano contacted me and asked if I'd like to sample their cheese, I responded with a resounding YES! And guess what? About a week ago I got two big blocks of cheese.
I received the Grana Padano and the Riserva. The Grana Padano has been aged for 10 months and is better for sauces and gratin dishes or shaving over a plate of carpaccio. The Riserva which is aged twice as long, for 20 months, is best grated over pastas and soups like minestrone.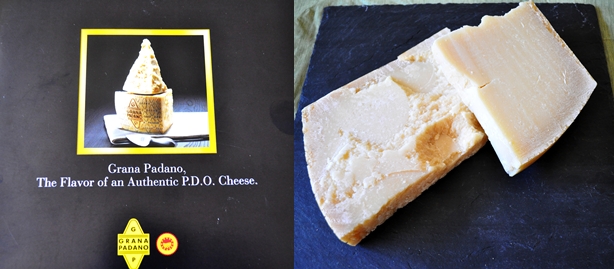 Since I received my two blocks, I've been using them in everything. Both the Grana Padano and the Riserva are hard cheeses much like Parmesan or Gruyere, so it's not really the kind of cheese you have on a cracker. Instead it's best grated over pasta or melted in a risotto. If you do like to have cheese by itself as an appetizer or dessert, I'd recommend taking it out of the fridge about an hour before you plan on serving it. Then slice and serve with figs, apples or even olives. It was delicious!
Since I thoroughly enjoy combining cheese and fruit, I decided to create an appetizer that would be an easy snack for a few friends, but fancy enough to make for a nice dinner party. Dying to try this cheese, but worried the only way to get it is by traveling to Italy? Don't fret. Turns out the blocks are available at Whole Foods, Costco or online. That way you too can indulge in this wonderfully delectable dairy product and these evil little blankets.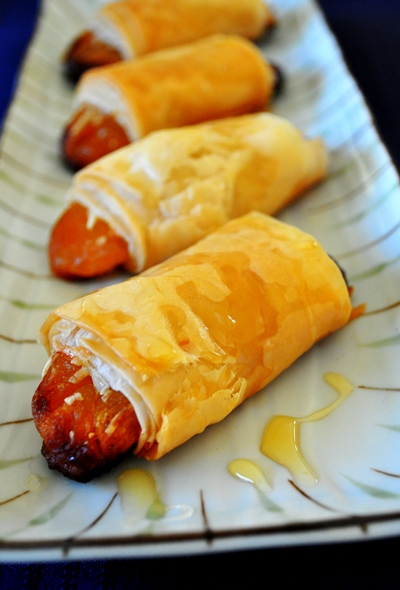 Cheesy Apricots in Blankets
Ingredients:
8 sheets filo dough, thawed
1/2 cup (1 stick) of butter, melted
24 dried apricots (or 12 fresh apricots, seeded and halved)
1/2 cup grated Riserva Grana Padano
2 tablespoons honey
Directions:
Preheat the oven to 375°F. Line a baking sheet with parchment paper.
Slice each pastry sheet lengthwise so you have 2 rectangles. Brush each piece with butter, then layer another sheet on top. Fold the pastry in half lengthwise.
Lay 2 dried or fresh apricots end to end at one end of the of the pastry. Sprinkle with 1-2 teaspoons of grated cheese. Roll apricots and cheese up in filo and place, seam side down, on the prepared baking sheet. Repeat with the remaining filo dough, apricots and cheese until you have 12 apricot filled blankets.
Brush each blanket with butter and bake for 12-15 minutes or until golden brown. Drizzle honey over each appetizer and serve.