Greek Chicken Spaghetti
February 13, 2012
by Jennifer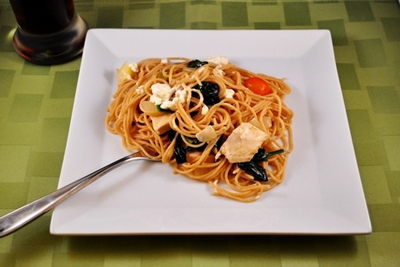 One of my favorite salads of all time is the Greek salad. I'm a big fan because my version doesn't have lettuce… of any kind. It has heirloom tomatoes, Japanese cucumbers and lots and lots of feta cheese. I then top the whole thing with olive oil and balsamic vinegar. It's a delicious summer lunch, especially when packed inside a piece of pita bread. I can't get enough of this salad and it's definitely healthier than a deli sandwich.
I didn't think anything could top my Greek salad until Sunset Magazine suggested turning that salad into a pasta dish. It still had all the things I love about the salad, but now it was on top of spaghetti. I'd never thought about turning my salad into a dinner dish. I'd always been satisfied eating it for lunch. But thanks to Sunset,  I now have a dinner that's just as easy as my favorite lunch recipe.
If you're a big fan of Greek salad, give this pasta version I made for She Knows a try. Who knows maybe it'll become one of your favorite dinner dishes too.
And if you're looking for other dinner recipes for the week, check out my Saturday wrap up. They're all good, this Greek Chicken Spaghetti just happens to be last week's favorite.