Maraschino Whoopie Pies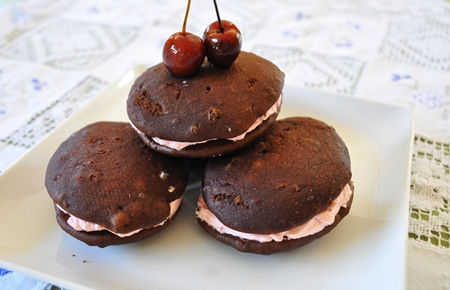 It's Valentine's Day next week and that means your mailbox is probably going to be full of red envelopes, heart-shaped cards, chocolate and flowers. While I like chocolate any time of the day or night 365 days a year, next Tuesday is the day when chocolate sales seem to go through the roof. And why not? The sweet treat seems to put a smile on everyone's face whether they're single or in a relationship. And the varieties are endless: you could get a heart-shaped box filled with the little goodies, you could have a rich, thick mousse, entice a loved one with chocolate covered strawberries or simply devour a pan of homemade brownies. I've had each and every one of these options on Valentine's Days over the years. But my favorite is always something homemade.
While my go-to chocolate recipe is usually brownie based, I've been wanting to try and make whoopie pies for awhile. I'd seen several recipes on blogs and in magazines and everyone always talks about how much better the homemade version is vs. the store bought version, so I thought what the hell? Now seemed as good a time as any to make a batch. Plus if I made my own, I could fill them with whatever flavored cream I desired. Sure the standard is a white marshmallow cream, but who says that's the only option? No one! I mean, the plain marshmallow cream is awesome, but a strawberry or cherry flavored cream would be heavenly. And since both fruits go so well with chocolate they seemed like the perfect choice for a Valentine's Day dessert.
But I didn't just want to make your basic chocolate cookie with red cherry flavored frosting. I wanted to do something adult special with it. I still had all that maraschino liqueur from when I made my Maraschino Cherries, and since I knew I wanted to use cherries in my creamy filling, why not give that cherry flavor a little kick? It was the perfect combination and the perfect grownup treat to share with that special someone.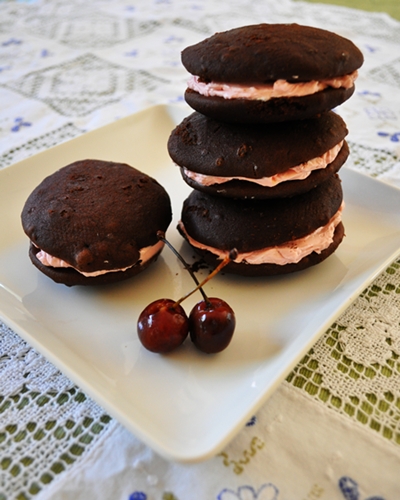 Maraschino Whoopie Pies
Ingredients:
For the pies:
1-2/3 cup flour
2/3 cup unsweetened cocoa powder
1-1/2 teaspoons baking soda
1/2 teaspoon salt
4 tablespoons butter
4 tablespoons vegetable shortening
1 cup brown sugar
1 egg
1 teaspoon vanilla
1-1/4 cups milk
For the filling:
1-1/2 cups marshmallow fluff
1-1/4 cups vegetable shortening
1 cup powdered sugar
2 tablespoons Maraschino liqueur
2-4 drops red food coloring (depending how pink you want your filling)
Directions:
For the pies:
Preheat oven to 375° F. Line 2 baking sheets with parchment paper.
In a medium bowl sift together flour, cocoa, baking soda and salt.
In a large bowl, beat together the butter, shortening and brown sugar until just combined. Increase speed and beat for 3 minutes. Add the egg and vanilla and beat for another 2 minutes.
Gradually add the flour mixture and milk, alternating between the two until both are in the bowl and combined.
Drop the batter with a spoon onto the baking sheets, spacing at least 1 inch apart, as the cookies will spread. Bake one sheet at a time for 10 minutes or until pies spring back when pressed gently. Let the pies cool for 10 minutes.
For the filling:
In a medium bowl beat together the fluff and shortening for 3 minutes until light and fluffy.
Add the sugar, maraschino liqueur and food coloring and beat until well combined and the filling is a nice pink color.
To assemble:
Spread the filling on the flat side of 1 pie. Lay a second pie on top and press together so it becomes a sandwich. Repeat with the remaining pies and filling. Serve.