Red Wine Risotto with Clams
February 6, 2012
by Jennifer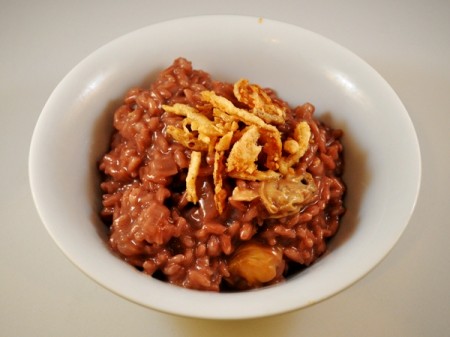 A little over a year ago I started working for Sheknows.com writing a daily dinner column called "Tonight's Dinner". I've had such a good time writing for them and creating these recipes, I thought I'd start sharing some of my favorites with you.  From now on every Monday I will pick my favorite recipe from the previous week and share the adventure I had in creating it.
As some of you may know, I'm a huge Top Chef fan.  As a fan, I not only love watching the chefs bicker over what they're going to make, I adore watching them create recipes out of whatever they can find in the kitchen that day. Every so often one of the cheftestants makes something so interesting, I have to make it myself; and that's exactly what happened a few weeks ago when Sarah made an Amarone Risotto with lamb heart for Charlize Theron. I'd never had risotto with red wine before, and since I love risotto, I just had to make it.  Although the end result was delicious, I did hit a couple snags while recreating it.
First, I had no idea where to get lamb's heart. Since I don't know of a butcher in the area I decided to forgo the lamb's heart and go with a shellfish instead. There may not be a local butcher, but there is Captain Kidd's – a wonderful fish market just a mile or so from my house which is where I purchase all my seafood. They're very knowledgeable, so if I'm ever unsure of what fish to use or how to prepare it, they're ready and willing to answers all my questions.  This visit was no different. I told the man behind the counter I was making a red wine risotto and didn't know what shellfish to use. I was thinking shrimp but they seem to pair better with white wine. He agreed and told me clams were absolutely the way to go. I followed his advice, bought two pounds of clams and added them to the dish.
The first snag taken care of, I went to tackle the second issue: where on earth to get an Amarone wine… after I discover what the hell Amarone wine is, of course. I knew it was a red wine based on the blood red color of Sarah's risotto, but I didn't know if it was in the Merlot family or the pinot family. Turns out it's neither. Amarone uses the same grapes that are used to make Valpolicella. But the reason it's an Amarone and not a Valpolicella is because the fruit that's used is harvested early and then left in boxes for a few months to dry out. The grapes actually turn into raisins and it's those raisins that are then crushed and fermented to make the wine. It's a delicious wine but this process also makes it a very expensive wine. The average price of a bottle runs at least 50 dollars. Since I wasn't about to spend that much money on a bottle of wine I was going to use to cook with, I opted for an Allegrini Palazzo della Torre which dries only half of it's fruit. The benefit of using this wine was I got a similar tasting wine for about half the cost.
Both snags taken care of, I was able to create a risotto similar to Sarah's that you can find here. It tasted amazing and made me want to make it again and again.