Stout Brownies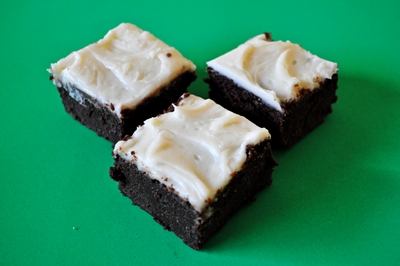 If you know anything about me, you know that I love chocolate. It doesn't matter if it comes in ice cream, cake, brownie or bar. If it's chocolate (dark or milk) I'm devouring it. My favorite chocolate dessert though is the brownie, hands down. So when I find new recipes for brownies, I run right out and get the chocolate I need to make the little bars. (That is if I don't already have the chocolate sitting on the shelf.)
Well a week or so ago, a very good friend of mine delivered some recipes that she thought I'd like to sample. One of the recipes were for stout brownies. Brownies made with beer. I've always heard that cakes and cupcakes made with stout make the chocolate richer and the cake fudgier.  Because a heavier beer is being used, the chocolate isn't nearly as sweet, giving it more of a dark chocolate flavor which makes me a very happy chocoholic.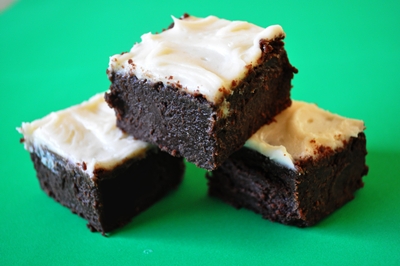 Anyway, I'd heard about stout chocolate cake or brownies and I'd been wanting to make them, but never had a reason. Well, as I'm sure you know, Sunday is the Super Bowl. A day that's dedicated to football, beer and men screaming at the TV. So what better time to make brownies that are beer based than on a day that's all about football and beer? I couldn't think of one.
The brownies sounded amazing. But they included a chocolate beer glaze. I thought that much chocolate and beer was just too much. Even for me. So in order to make the brownies really resemble a mug of stout, I decided to top them with a vanilla buttercream frosting. If you've ever ordered a glass of Guinness you know the mug is three-quarters black stout and one quarter white head. The white frosting would simulate the head perfectly. Yes, it'd be much sweeter than your standard head of beer, but it'd look the part and actually cut the richness of the brownie. It was perfect. And better yet, delicious.
Stout Brownies
Ingredients:
1 cup stout (like Guiness)
14 ounces bittersweet chocolate, chopped
1-1/2 cups (3 sticks) butter, divided
1 cup sugar
3 eggs
2 tsps vanilla, divided
1/2 cup pastry flour
1/4 cup all-purpose flour
1 tsp Kosher salt
1/2 cup powdered sugar
Directions:
Preheat oven to 350°F. Line a 9×9 inch metal pan with parchment paper.
Boil stout in a medium sauce pan and cook until reduced to a half cup.
Stir together the chocolate and 2 sticks of butter in a double boiler until melted and smooth.
Whisk together the sugar, eggs and 1 teaspoon of vanilla in a large bowl. Gradually whisk in the chocolate and stout until combined. Fold in the flour and salt. Pour the batter into the prepared pan and bake for 35-40 minutes or until a toothpick inserted comes out with a few moist crumbs attached. Let cool.
While the brownies cool, beat together the remaining stick of butter, powdered sugar and remaining teaspoon of vanilla until smooth and creamy.
Once the brownies are cooled, frost the brownies with the vanilla frosting, cut and serve.