Chocolate Potato Cake with Raspberry Frosting
March 15, 2012
by Jennifer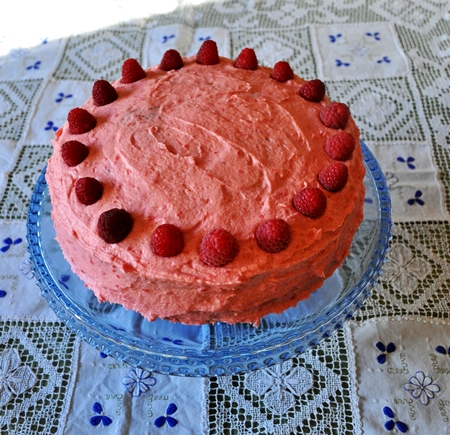 Last week I attended my first Food Bloggers Los Angeles meeting. It's a group of local food bloggers who get together once a month to share ideas, socialize and of course eat. Well this month's meeting was all about potatoes since Don Odiorne, the VP for food service for the Idaho Potato Commission, was the guest of honor. So to honor his visit, all the bloggers who attended were asked to make something with potatoes in it.
Of course my first thought went to casseroles or something hot because that's usually how I eat potatoes. But then I realized I'd be traveling to West Los Angeles from the South Bay during rush hour traffic, which meant anything I made would be cold by the time I reached the meeting. And cold potato dishes are not yummy. So I started thinking what could I make that would taste good served cold. At first I thought potato salad, but I figured (correctly as it turned out) that there would be a potato salad or two. Then I thought of a cold potato soup or Vichyssoise (which I ended up making for my dinner column over on She Knows).  But since I'm a baker first I really wanted to make a dessert. So I started looking up potato desserts and found this awesome chocolate potato cake from Taste of Home. And since chocolate is my favorite food group, I figured why not?
While the recipe from Taste of Home called for a caramel frosting, I've always been partial to fruits with my chocolate. And since I'd just bought a bunch of raspberries, I thought a raspberry buttercream frosting would be a nice tart compliment to the sweet chocolatey goodness of the cake.  Guess what? I was right. The fruit went perfectly with the chocolate and the potato made the cake more moist than I could have expected.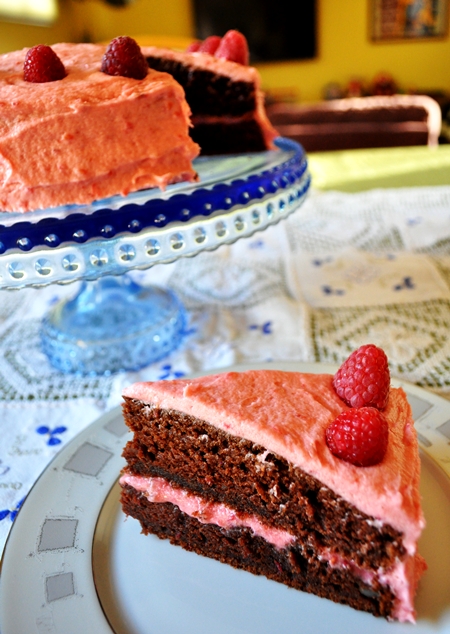 Chocolate Potato Cake with Raspberry Frosting
Ingredients:
For cake
1 cup butter, at room temperature
1-1/2 cups sugar
2 eggs
1 large potato, peeled and chopped
1 teaspoon vanilla
2 cups flour
1/2 cup unsweetened cocoa powder
1 teaspoon baking powder
1 cup milk
For frosting
1 cup raspberries
1 cup butter, at room temperature
1 teaspoon vanilla
1 pound powdered sugar
Directions:
Preheat oven to 350°F.  Grease and flour 2 9-inch round cake pans.
Boil the potatoes in a large pot of water until tender, 15-20 minutes.  Drain the water, mash the potatoes and let cool.
In a large bowl, cream together the butter and sugar until light and fluffy. Add the eggs one at a time, beating well after each addition. Add the mashed potato and vanilla.
In another bowl sift together the flour, baking powder and cocoa.  Gradually add the flour mixture to the creamed butter and sugar mixture alternately with the milk, beating well after each addition.
Pour the batter into the two cake pans and bake for 25-30 minutes or until a toothpick inserted into the middle of the cakes comes out clean.  Cool for 10 minutes in pans, then transfer to a wire rack to cool completely.
While the cakes cook, make the frosting – In a large bowl beat together the raspberries, butter and vanilla until creamy. Gradually add the powdered sugar until blended and smooth.  Spread between the layers, over the cake, and serve.