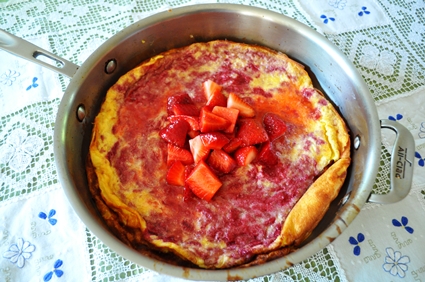 As you know, I'm a mother with a toddler which means my days are pretty packed. Because my days are so packed I only have the chance to go to the grocery store once a week to get everything I need for the upcoming week. Since I'm there so often, I've had a chance to really examine my store, especially the checkout lines.
Have you ever taken a good look at the checkout before? It's amazing how much stuff there's still left to buy even though you're cashing out to leave: candy bars, every kind of gum imaginable, even breath mints. But if you're not in the mood for edible items there are also magazines. Half of them are the social, keep you up to date on who's dating (or married) who and which stars have suddenly lost (or gained) enormous amounts of weight. But right next to all those impulse buys are usually one or two cooking magazines, like Sunset, Real Simple or Better Homes and Gardens. These are the things I buy impulsively because there's always a recipe or two buried in the pages that look interesting. A few months ago the same thing happened: I picked up Sunset's Best Recipes of 2012 and found several yummy sounding recipes including a delicious oven pancake that seemed like the perfect treat for a Mother's Day brunch.  I was right.
The pancake was a rich, custardy entreé covered with my favorite berries. (Although the recipe calls for strawberries and raspberries, you could easily substitute blueberries or blackberries or any combination that you prefer.) It was like having a delicious dessert for breakfast that goes perfectly with coffee or a mimosa.
So, after a long year of making breakfasts, dinners and school lunches, this pancake is the perfect treat to show Mom how much you care. And since all the ingredients get poured into an oven-proof skillet and baked in the oven, it's an easy recipe for the kids to make alone or with their daddies. But best of all, it allows moms everywhere (even me) to sleep in on Sunday. And if you're a mother, you know how nice those extra five minutes of "beauty rest" can be.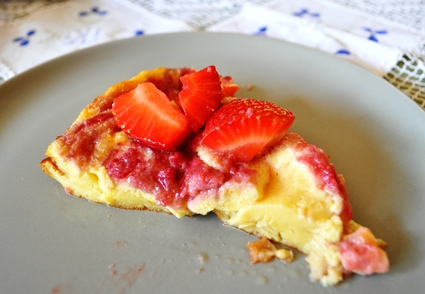 Custard Oven Pancake with Mixed Berries
Ingredients:
4 large eggs
1/4 cup honey
1 teaspoon lemon zest
1/2 teaspoon salt
1 cup flour
2-1/2 cups milk
2 cups raspberries, divided
1/4 cup butter
1 pound strawberries, hulled and chopped
2 tablespoons lemon juice
1 tablespoon sugar
 Directions:
Preheat the oven to 425° F. Place an oven-proof 12-inch skillet in the oven to warm.
While the skillet is warming, whisk the eggs, honey and lemon zest together in a large bowl until combined. Add the salt, flour and 1/4 cup milk and continue to whisk until smooth. Whisk in the remaining milk and set aside.
Purée 1 cup of raspberries in a food processor until smooth. Strain to discard the seeds.
Using an oven mitt, remove the warmed pan from the oven and reduce the temperature to 400°.
Add the butter to the pan and swirl until melted. Pour the batter into the pan. Pour the raspberry purée over the batter in wide ribbons. Bake the pancake for 30 minutes or until golden brown. Let cool for 10 minutes (the pancake will fall).
While the pancake cools, combine the strawberries, remaining raspberries, lemon juice and sugar in a bowl and let stand for 10 minutes. Spoon half the berry mixture onto the pancake and place the rest on the side in a bowl. Cut the pancake into wedges and serve.