Mimosa for Mother's Day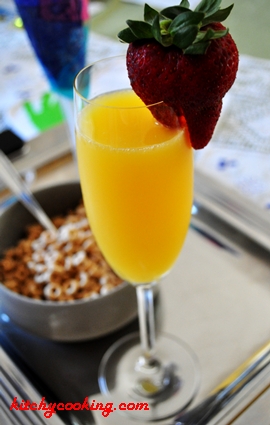 Sunday is Mother's Day. The day when mothers everywhere get to sleep in, have fancy breakfasts served to them in bed and get to do whatever they please while their husbands take over and take care of the kiddies. Yeah, right.
It's a nice theory and while plenty of us will be awoken at 7 am with thoughtful breakfasts of cereal and underdone pancakes, most of the day will be spent with family doing exactly what we do every other day of the year, playing, eating and enjoying each other.
But before the fun begins do your mom a favor and serve her one of these delicious classic cocktails with that bowl of cereal. After all, with everything she does every day, from cooking and cleaning, to picking us up from various school activities, and being there when we need an ouchie kissed or a shoulder to cry on, doesn't she deserve a little shot of alcohol to start off her day? Don't we all? Yes, coffee is wonderful, but holidays deserve something extra special. And nothing's better for a holiday brunch than a nice mimosa, especially when it's made with fresh orange juice.
Unlike some of my other classics, this cocktail is a pretty popular choice for today's brunches whether they're special or not. But since it is so common, you're probably wondering what makes it a classic? Well, believe it or not it was created in 1925 at the Paris Ritz Carlton hotel. It was named after the Mimosa flower because when mixed together, the drink resembles the bright orange/yellow blossom native to Mexico and South America. But the original adult beverage had an extra ingredient the modern day concoction seems to lack – Grand Marnier.
Whether you choose to add the Grand Marnier to this delicious mid-morning drink or not, nothing is guaranteed to make Mom smile more than a sparkling, fruity cocktail brought to her by the ones she loves most. And if it happens to be on a tray while she's in bed, even better.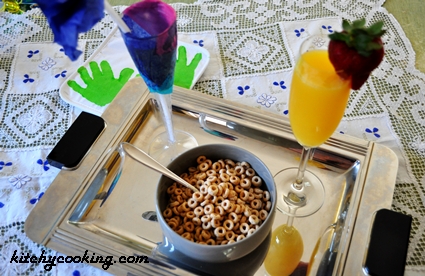 Mimosa
Ingredients:
4 ounces champagne
5 ounces orange juice
1 teaspoon Grand Marnier
Directions:
Squeeze the orange juice into a frosted champagne flute. Add the Grand Marnier, finish with the champagne and stir.