OXO containers and a Giveaway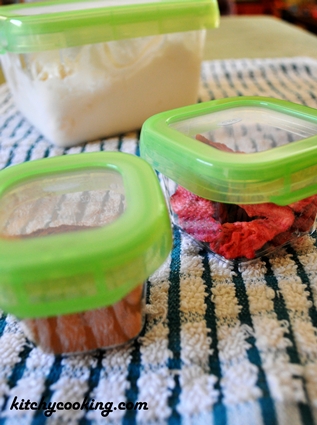 Recently I was given the opportunity to test out a set of OXO Lock Top Containers. I love OXO products. They're well made, last forever and work amazingly well. I'm such a big fan, I already have plenty of their gadgets: measuring spoons, rubber spatulas and a peeler just to name a few. So you can understand how excited I was when OXO wanted me to test out their containers.
As the mom of a toddler and a cook who seems to have leftovers on a regular basis, I'm here to tell you, these containers are AWESOME!  Everything OXO promises about them is true. They're super easy to close, spill proof and durable. I dropped a couple of these containers when they were full and they did not bust open, which means I had less mess to clean up. And when you're a busy mom running around after a toddler, that's a pretty big deal.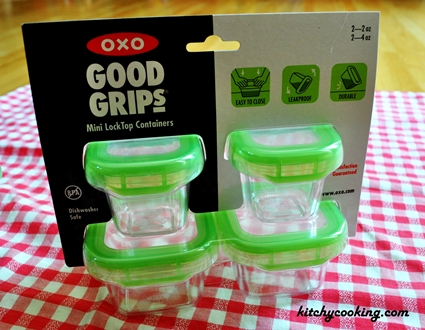 The 2 ounce containers are perfect for spices or puréed baby food. And the large 50 ounce (yes, I said 50 ounces) container holds an entire dinner's worth of leftovers. But the ones I found myself using the most were the 4 ounce containers. Not only are they the perfect size for A's snacks, they fit perfectly into his little hands so he can carry them around at the park and much when he's hungry. Since I use these little ones so often, the fact that they can go in the dishwasher and come out completely unharmed, makes them my favorite new storage container.
Wanna here something even cooler about these containers? OXO has given me an extra set to giveaway to one lucky reader. You'll get the same ones I did: 4 mini lock top containers and 1 medium container. I'm sure once you've had the chance to try them out, you'll do what I did and buy another set or two.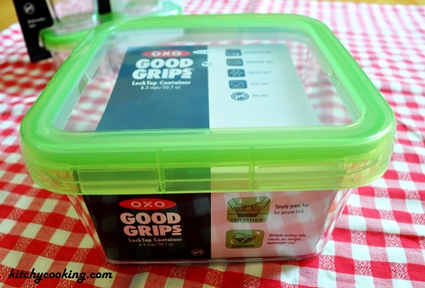 Here's how you win: (Main entry required)   THIS GIVEAWAY IS NOW CLOSED.  CONGRATULATIONS Meredith for winning the Lock Top Containers.
Go to OXO's site and peruse all their amazing cooking utensils.  Then come back here and tell me what you absolutely must have (other than the items shown here) to make your baking dreams come true.
Want extra entries?
Each item you do will get you one chance to win (for a total of five chances). If you already do any of these things they do count! So make sure to leave a separate comment for each item.
Go like OXO on Facebook.
Go like Kitchy Cooking on Facebook.
Follow @kitchycooker on twitter and tweet the following statement:   I just entered to win a set of OXO Lock Top Containers from @kitchycooker and OXO. Have you? http://bit.ly/JEyBf3
Subscribe to the Kitchy Cooking RSS feed.
The Fine Print
This giveaway is only open to residents of the 50 United States. (Sorry, shipping to Canada's pricey.)
Giveaway will end on Wednesday, May 23, 2012 at 11:59 pm PST. One winner with a valid entry will be chosen via a random number generator at random.org.  The winner will then be notified via the e-mail they provide when they leave a comment.
Winner has until May 25th at 10 pm PST to claim their prize or I'll pick another winner.
PLEASE NOTE: I was provided with a free set of OXO containers to review and one set to give away. I was not compensated for this review and my opinions are my own.