Zabaione with Mixed Berries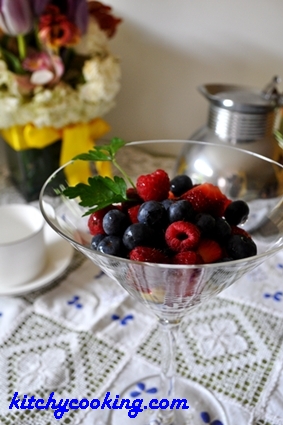 Spring is here! Spring is here!
Okay. I know Spring has been here since March, but in my opinion it officially began this week. Know why? Because my favorite food time of the year is just getting under way.
Fresh berries! Yellow peaches! Apricots and apriums! Not to mention pluots galore. They're all starting to show up at my farmers market and that means fruit salads, tarts and cobblers. Maybe even some sorbets. I'm so excited I'm just about to burst… or go into labor… I'm not really sure which. But it doesn't matter.
The point is, this is the time of year when my taste buds go into overdrive because every stone fruit and berry I see I want to pop in my mouth. They're all so sweet and tart and everything that's good about spring and summer fruits. But what really excites me about this time of year is all the different fruity desserts I get to start making.
While cobblers, crisps and pies will definitely be in my future, I thought I'd start with something simple for the upcoming Memorial Day holiday. This recipe is so easy, you can easily whip up a batch whether you planned on having people over a few weeks ago or decided to invite a few close friends over at the last minute. This Italian dessert only takes about 15 minutes to make, has four ingredients and brings all those delicious sweet/tart summer flavors together in one spectacular spoonful.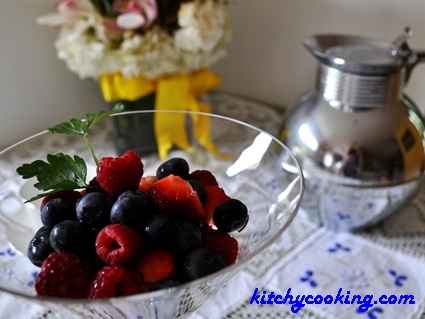 Zabaione with Mixed Berries
Ingredients:
8 large egg yolks
1 cup sugar
1 cup Marsala
3 cups mixed berries
Directions:
Fill the bottom of a double boiler with 1 cup of water and bring to a simmer over medium heat.
Combine the yolks, sugar and Marsala in the top part of the double boiler, place over the simmering water and cook, whisking constantly so the eggs don't scramble. Continue whisking until the mixture is thick, 8-10 minutes.
Remove the pan from the heat and whisk for another minute.
At this point you could either chill the zabaione for an hour or spoon it into bowls and top with fruit. (I like it chilled, but it's just as yummy hot.)