Clase Azul, A Tequila Sunrise and Pimiento Azul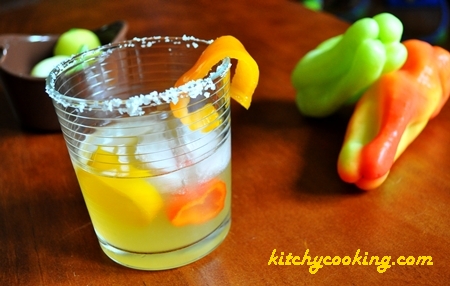 It's summer time. Here in sunny southern California where there really aren't any seasons, the only thing summer months means is that delicious, brightly colored fruits are finally available at the farmer's market and our days are longer. But that's no reason to get upset, because those longer days mean more beach time and more beach time means more time for tasty cocktails. Even better, these cocktails can be made with all the yummy fresh fruits and veggies from the farmers market.
Some of my favorite fruits available are the brightly colored peppers. Yes, they're not ideal for eating on their own like a peach or plum, but they are perfect for salads, roasting and throwing on a sandwich or adding to a cocktail. Cocktails you ask? Yes! Cocktails! And lucky me, I just happened to receive a bottle of Clase Azul tequila recently.
While I love tequila straight (sometimes there really is nothing better than a shot with a squeeze of lime) I also love a well made tequila cocktail. Hello… margaritas anyone? I usually stock Patron or 1800 in my liquor cabinet, but this Clase Azul was awesome. It's unbelievably smooth and absolutely perfect for sipping or shooting. But be warned, this delicious liquor isn't cheap. The bottle you see in the pictures is over 80 dollars at BevMo! And that's the reason I believe it's better to sip the evil elixir rather than mix it. But since I'm not one to take my own advice, I mixed the tequila. And what did I mix it with? That's right, peppers. Because let's face it, can you think of a better liquor to pair with peppers than tequila? Neither can I.
Now I know I've sworn that I'd only do cocktails that were created before 1960, but since the people over at Clase Azul were nice enough to send me a bottle of their awesome tequila, I thought it only fair that I put my mixology skills to use and create a cocktail as well. So…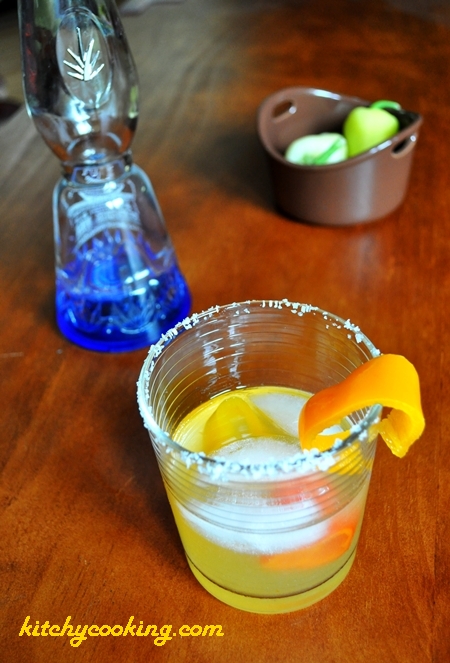 The Pimiento Azul. It was easy and the end result was awesome. If you love peppers (no matter whether they're sweet or spicy) you're going to love this tequila. You could sip it straight, but if you're like me, mixing it with some simple syrup and lime juice makes you want to pour the concoction into a thermos and head straight for the beach.
Pepper Infused Tequila
Ingredients:
1 bottle of tequila
4-6 small sweet peppers, chopped
Directions:
Place the peppers in a large resealable jar. Pour the tequila over them and stir. Seal the jar and place in a cool dry place for at least 2 days and up to a week.
Drink straight and be merry or use for…
Pimiento Azul
Ingredients:
1 tequila infused pepper
2 ounces pepper infused tequila
1/2 ounce of silver tequila
1 ounce simple syrup
1/2 ounce lime juice
salt (optional)
Directions:
Rub the rim of a tumbler with a piece of sweet pepper and dip into a saucer of salt. Fill the tumbler with ice cubes and set aside.
Muddle the tequila infused pepper in a cocktail shaker.  Add the pepper infused tequila, simple syrup, silver tequila, lime juice and ice.  Shake vigorously for about a minute.
Strain into the prepared tumbler, garnish with a slice of pepper and serve.
And just so you devoted Kitchy fans don't think I'm abandoning my classic cocktail post, here's a classic we've all tried before, but have probably never had it in its original form. I'm talking of course about the Tequila Sunrise. Yes, it is the go to drink if you're in the mood for a Mexican inspired brunch or want to get the party started early on Cinco de Mayo because the version we all know has orange juice in it. But did you know that that's not how the Tequila Sunrise was first created? That it actually didn't have any orange juice in it at all when it first appeared on the scene?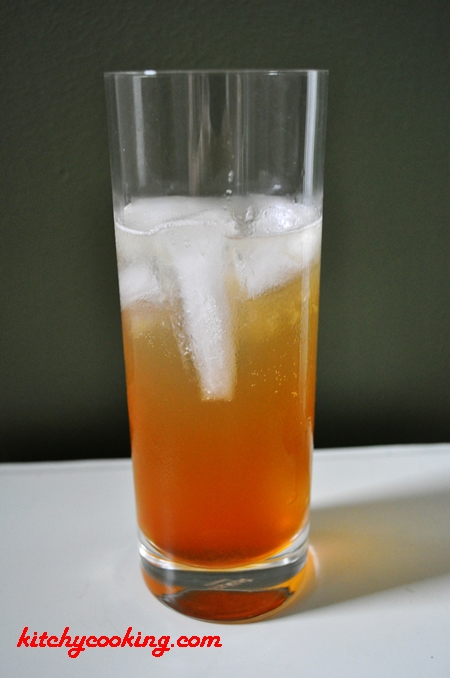 The original Sunrise was created at the Arizona Biltmore in the late 1930's or early 1940's by a gentleman named Gene Sulit.  As the legend recalls, a loyal and longtime repeat guest had returned to the Arizona Biltmore for vacation to soak up the desert sun. Having met Gene on prior visits, the guest told Gene he loved tequila, but was looking for a refreshing beverage to enjoy poolside, and asked Gene to surprise him.  Gene did just that. By blending soda and tequila with Crème de Cassis and fresh lime juice, Gene created the foundation for what was to become the iconic cocktail.
So to continue in classic Kitchy tradition, the original Tequila Sunrise…
Tequila Sunrise
Ingredients:
2 oz Tequila
1 1/2 oz Lime Juice
1/2 oz Creme de Cassis
Club Soda
Directions:
In a highball or collins glass mix together the tequila and lime juice.  Add ice and top with club soda, leaving a little room in the glass.  Slowly drizzle the Creme de Cassis over the top of the drink and serve.