Sugar Roasted Peaches
October 31, 2012
by Jennifer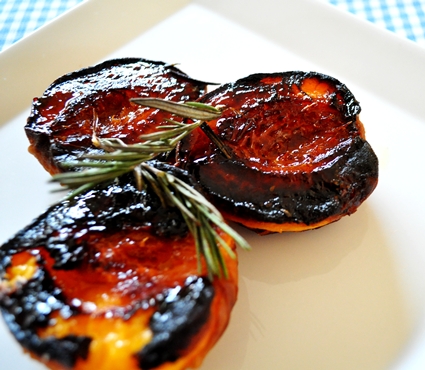 Today may be my final Tonight's Dinner post over at She Knows but don't worry, you'll still be able to find delectable recipes right here on Kitchy.
Since peaches are still available at my farmer's market for a few more weeks, I wanted to do a recipe that combined two of my favorite things – meat and fruit. Fine Cooking came to my rescue (as they often do) and provided a recipe for roasted pork chops with fennel and sugar-roasted peaches. Sounds heavenly, doesn't it? I mean, peaches and pork chops are wonderful all by themselves, but roast them together, and you have a dinner that's out of this world. If you'd like the recipe for the pork chops and fennel you can find it here. But if you're just interested in making the sugar-roasted peaches (and come on, who wouldn't be) you've come to the right place.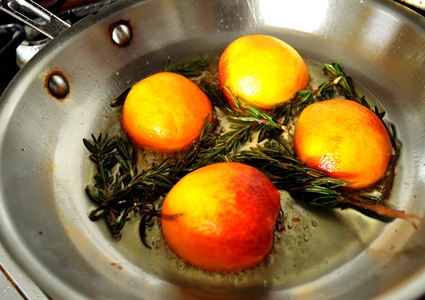 While I adore eating peaches as a snack, in salads or pies, I love grilling or roasting them even more. There's just absolutely nothing better than taking a bite out of a well-cooked piece of meat and getting a shock of sweetness to combine with that delectable salty flavor.
You're probably wondering why you'd roast the peaches when they're already so sweet by themselves. Well, searing and roasting them brings out that sweet flavor even more. And once they're roasted, those peaches go from a great mid-morning snack to a beautiful side dish (as in the pork chops) or a high-class dessert.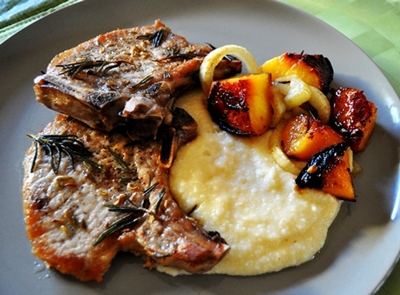 Sugar-Roasted Peaches
Ingredients:
 2 tablespoons olive oil
4 ripe peaches, halved and pitted
1 tablespoon sugar
1 teaspoon Kosher salt
3 sprigs of rosemary
Directions:
Preheat the oven to 450°F.
Heat the oil in a large oven-proof skillet over medium-high heat. Sprinkle the cut sides of the peaches evenly with sugar and a tiny pinch of salt.
Place the peaches in the skillet cut side down and nestle the herbs around them. Let the peaches cook, undisturbed for 3-4 minutes.
Sprinkle the uncut sides of the peaches with a little more salt. Transfer the skillet to the oven and roast until the peaches are just tender, about 5 minutes. Flip the peaches, drizzle with olive oil and continue to roast for another 5 minutes. Let the peaches cool for 1-2 minutes and serve.