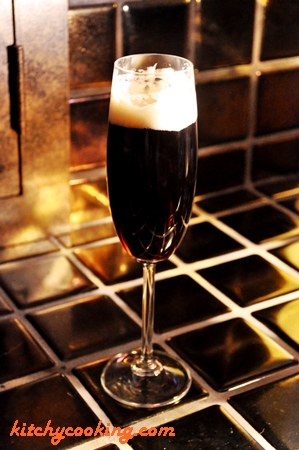 When I think of black velvet two things come to mind, the soft luscious fabric that's often used to make cocktail dresses and the 90's song by Alannah Myles. The one thing that never came to mind, until recently that is, was this classic English cocktail. But when I discovered that not only is it made with champagne but is also black in color, I thought it would make the perfect cocktail for New Year's Eve. I mean, what's dressier than a champagne cocktail? Why, a champagne cocktail dressed in black of course.
Although the combination of Guinness and champagne sounds like something a drunk college student created at a fraternity party, this cocktail actually dates all the way back to Queen Victoria. Legend has it the country was in mourning after the queen's husband, Prince Albert, died. It wasn't considered proper to drink champagne in a time of mourning. So a bartender at the Brooks' Club in London decided that if one was going to drink champagne, the champagne should be mourning as well. He decided to dress the cocktail in black by adding the stout beer to the champagne and the Black Velvet was born.
What makes this drink a great choice for your New Year's Eve party is not only is it a dressy cocktail, but it will also satisfy those who prefer beer to champagne. And just in case you're looking for some music to go with your black tie cocktail, I included that other black velvet I mentioned earlier.  Happy New Year everyone!
Black Velvet Cocktail
Ingredients:
2 oz Guinness beer
2 oz champagne
Directions:
Fill a champagne flute half way with Guinness. Top with the champagne and serve.