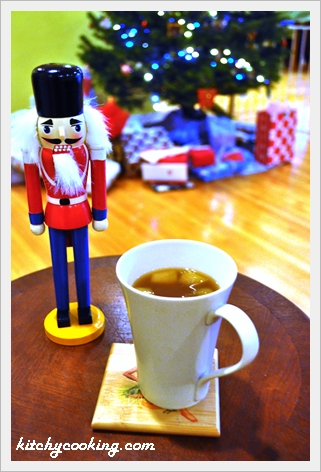 It's Christmas! And if you're anything like my family, you spend the morning in your pajamas unwrapping gifts and drinking coffee and cocoa. Then while I whip up something for breakfast the kids run around screaming while they play with every single toy they received. In other words our house is total mayhem.
But around two or three in the afternoon, something happens. Things actually start to calm down. The kids discover they can play and be quiet at the same time, the men hang out in the living room and talk while the women convene in the kitchen to make Christmas dinner and discuss the days events. It's during this time of cooking and commiserating that something else happens. The alcohol starts to flow. Sure there's a variety of red and white wines that are uncorked and consumed before and during dinner, but sometimes eggnog and hot buttered rum are also served. They can actually be a very nice apéritif. And while I love a rich homemade eggnog, when it's cold outside I prefer a big mug of spiced cider.
See to me, there's nothing better on those chilly winter nights than a good spiced cider. That is of course unless it's a cider that's spiked with bourbon or brandy.  And since it's so easy to make, it's the perfect choice during these cold holiday evenings. All you need is your favorite apple cider (mine's Trader Joe's) and a healthy dose of mulling spices. I was lucky enough to receive some from Frieda's that weren't just delicious, they made cooking up the wassail even easier.
While the cider is a delicious aperitif before Christmas dinner, it's an even better choice if you're going door to door caroling with friends and family. After all, if you're walking through a snowy neighborhood singing, wouldn't it be better with a hot mug of something? That way you can keep warm and keep your throat in good condition. It's for this reason that I chose wassail for this Christmas post.
You see wassail, which is a big pot of spiced spiked cider, isn't just a classic. It's actually been around since before the Nativity, originally used to ensure a good apple harvest.  People would pour the cider over the apple trees as they sang  and prayed for a good harvest.
Although this tradition still continues in certain apple orchards across the pond, everywhere else the wassail has evolved into going from door to door during the holidays singing carols and wishing neighbors good cheer. Sound surprising? Not if you consider that wassail stems from the words Waes Hail which means "Good Health." Knowing that, the song "We Wish you a Merry Christmas" makes a lot more sense. I always wondered why the carolers would sing "Bring us some figgy pudding and a cup of good cheer". Knowing that a cup of good cheer is actually a cup of wassail, explains why the carolers then sing "we won't go until we get some." I mean, I wouldn't leave a neighbor's door if they were offering up a nice steaming cup. Would you?
So no matter whether you're out singing tonight or curled up by the fire watching the kiddies play with all their new toys, nothing closes out this Christmas night better than a nice hot mug of wassail.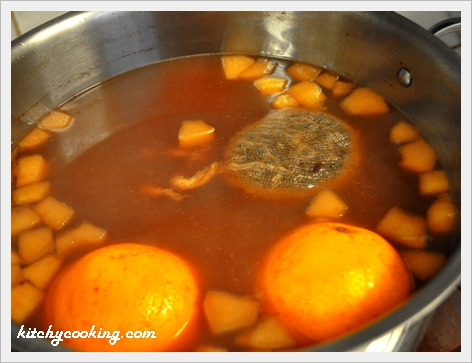 Wassail
Ingredients:
1 gallon apple cider
2 cups cranberry juice
1/2 cup honey
2 oranges
1 apple, peeled, cored and diced
3 cinnamon sticks
1/2 cup mulling spices
1 cup brandy or bourbon
Directions:
 Pour the apple cider and cranberry juice, into a large pot over medium heat. As it starts to simmer, stir in the honey until well combined. Add the oranges and apples.
Break the cinnamon sticks in half and add them to the pot. Wrap the mulling spices in some cheese cloth and tie it up with some cooking twine. Throw in the bag of spices and let simmer for about three hours.
At least 30 minutes before serving, stir in the brandy or bourbon.
When ready to share, ladle the wassail into mugs and serve.