Sausage, Pear & Gruyere Pie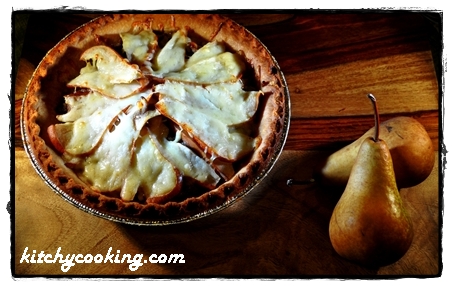 Spring and summer are considered big fruit seasons, but believe it or not there are still a few fruits available during these cold winter months. What is that fruit you ask? Why apples, pears and all different types of citrus, of course. While there are plenty of apple recipes out there (don't worry, I will be posting a few) one fruit I don't see too much about are pears. So I thought I'd do a post. But if you're thinking this is a dessert recipe, I have a surprise for you.
Although I do love biting into an apple or pear as a snack or cutting them up and turning them into pies, I really appreciate these fruits when they're combined with meats and cheeses. I like how their tart flavor brightens up a savory meal. And since that burst of sweetness is so unexpected, it makes the meal all the more delightful.
While I do enjoy a meal that's both sweet and salty, I don't usually include these fruits in the main course. I don't know why, exactly, I just don't. If I decide to go savory with my apples or pears, I tend to slice them up and eat them with cheese for a healthy afternoon snack. So when Prevention Magazine suggested topping a meat pie with both pears and cheese, you know I was all in. But you want to know the best thing about this entrée? It wasn't just easy to make, the final product was absolutely delicious!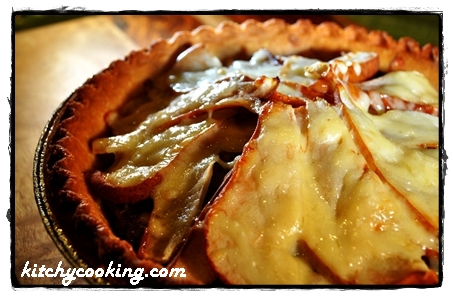 Sausage, Pear & Gruyère Pie
Ingredients:
1 store bought pie crust
1 pound bulk sausage
1 yellow onion, chopped
3 firm-ripe Bosc pears
3/4 cup Gruyère cheese, shredded
Directions:
Preheat the oven to 400°F.
Place the pie crust in a greased 9-inch pie plate and bake for 15 minutes or until golden brown.
While the crust bakes, cook the sausage and onion in a skillet over medium-high heat until no longer pink, about 7 minutes. Spread the sausage/onion mixture into the prepared pie crust.
Halve the pears lengthwise and remove the core. Then slice the pears thinly and arrange in a circle on top of the sausage mixture. Sprinkle the cheese over the whole pie and bake until the cheese is melted and the pears are tender, about 25 minutes. Serve immediately.