Italian Wedding Soup
February 25, 2013
by Jennifer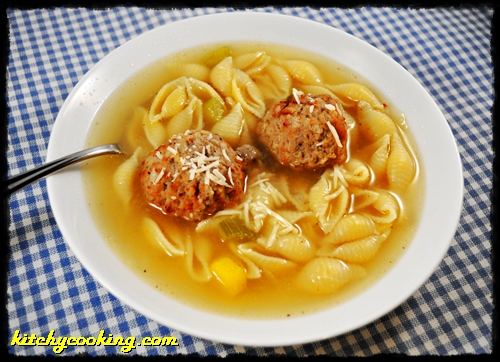 As a baker and cook I sometimes find myself looking for the most complicated thing to make for dinner because I feel like if I'm not making the product from 100% scratch then I'm not really cooking. I know it's stupid but I've just never been one of those bakers who makes cakes or cookies from a box or buys pre-made anything. I admit, I was (and still am in a lot of ways) a bit of an ingredients snob.
Then I became a mom.
I no longer had three or four hours on the weekend to make meatballs from ground beef, herbs and spices or let a pot of chicken soup simmer on the stove for hours just so I could have stock for the next month. I started to discover that if I bought a bag of meatballs or a box of chicken stock that didn't mean I was no longer a cook or feeding my sons horrible, calorie-filled, processed crap. I was still creating delicious meals for the family, I was just using a couple short cuts. But more importantly, I was saving time.
This recipe is one such entrée that can be created quickly with a few store-bought shortcuts and still be healthy and delicious. But if you're like I used to be and want to make everything from scratch you can do that too. I mean, the only things I bought were the chicken stock and the meatballs.
So, I bet you're wondering how I made this soup "from scratch" if I purchased two out of the six ingredients. That's easy. I just added some vegetables, herbs and spices to turn the soup into an entrée and give it a lot more flavor. Just goes to show, you don't have to spend hours in the kitchen in order to turn out a delicious, healthy meal the whole family will love.
Italian Wedding Soup
Ingredients:
2 tablespoons olive oil
1 onion, diced
3 carrots, chopped
3 stalks of celery, chopped
6 cups chicken stock
salt and pepper to taste
10 meatballs
1 cup small shell pasta
1/3 cup shredded Parmesan cheese
Directions:
 Heat the olive oil in a large pot over medium-high heat. Add the onions, carrots and celery and cook until tender, about five minutes.
Add the chicken stock and bring to a boil.
Reduce the heat to low, add the pasta and let simmer for 7-10 minutes or until pasta is tender.
Stir in the meatballs and cook for a couple minutes.
Ladle the soup into bowls, sprinkle with the Parmesan cheese and serve.