Pink Lady Cocktail
February 8, 2013
by Jennifer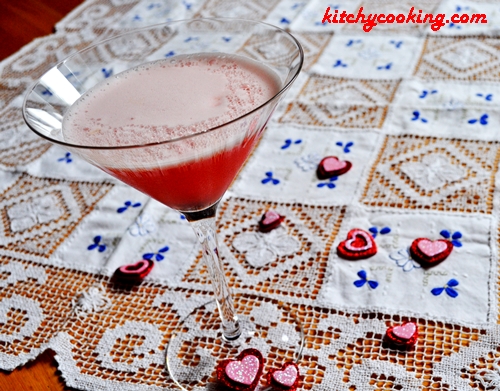 I know what you're thinking… another frou frou drink for the ladies to help celebrate Valentine's Day. Well, have I got a surprise for you. While the name and color may evoke smirks and giggles, this drink is anything but girly.
Yes, it's true – I chose this week's classic cocktail because of it's pink hue, but believe me when I tell you this drink is no sweet little apéritif. In fact while the color may be on the girly side, this cocktail actually packs quite a wallop. No sweet frou frou liqueurs in here. It's one hundred percent man, made up primarily of gin and applejack. Which means, yes guys, this drink is actually okay for you to sip while you're out with your sweetie. She'll probably even be impressed that clearly you have no worries about your manhood since you're drinking a pink cocktail.
The history of the Pink Lady is somewhat shady. While it has been around since the Prohibition, no one's sure who created it, why it was invented or even how it got its name. Many believe however, the color and frothiness evoke a femininity not found in other drinks of the time.
Since gin, or all alcohol for that matter, was hard to find at the time, people got to creating their own. Bath tub gin anyone? But that homemade moonshine wasn't especially tasty, so the bartenders added lemon juice or grenadine to the drinks to make them more palatable. The fact that the grenadine gave the drink a pink hue made it even more enticing to the ladies.
The raw egg white was added later to give the drink a little more body. And that's probably the one ingredient that will give you pause. I'm here to tell you there's nothing to worry about. I mean, how many of us have eaten raw cake batter or cookie dough? Have we gotten sick? No sir! And we've enjoyed licking the spoon. The same can be said about the Pink Lady. The key is making sure the egg white has emulsified, which is why you shake the cocktail for a good minute before you add the ice to your shaker. Then you shake it even more so when you pour the drink into your cocktail glass, you get a nice frothy head on top.
So there you have it. Not only is the Pink Lady the perfect color for this heart-filled holiday, it's frothy top adds a sexiness befitting a late Valentine's night.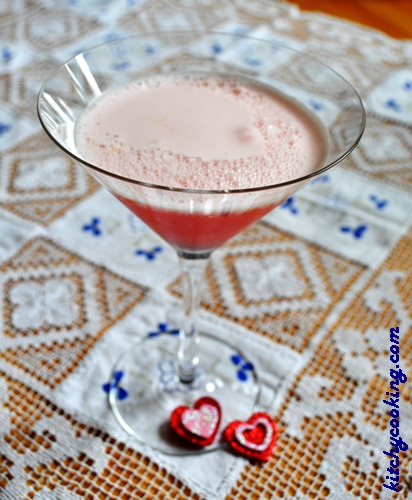 Pink Lady
Ingredients:
1-1/2 ounces dry gin
1/2 ounce applejack
juice of 1/2 a lemon
1/4 ounce of grenadine
1 egg white (good for 2 cocktails)
Maraschino cherry (optional)
Directions:
Combine all the ingredients except the cherry in a cocktail shaker without ice and shake for a good 10 seconds.
Add ice to the shaker and vigorously shake for another minute or so.
Strain into a chilled cocktail glass, garnish with a cherry and serve.