Irish Coffee
March 15, 2013
by Jennifer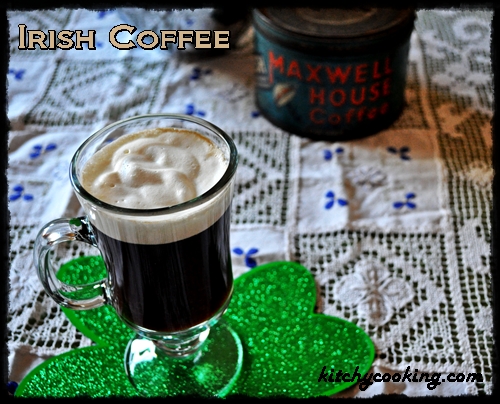 I know, I know, this is the post you've been waiting for all week. After all there's really only one thing that St. Patrick's Day's all about: finding a pub with an Irish name and drinking enough green beer to make you sick and then continue drinking until the wee hours of the morning.
But what if I told you that you don't have to consume gallons and gallons of green beer in order to celebrate this holiday? What if I told you, your alcoholic beverage doesn't even have to be green? You'd probably get down on your knees and thank God… or me… whomever you choose. It's true. There are actually a few drinks that are perfect choices for this green holiday and they don't have one spec of green anywhere in them. The Black and Tan is one and the Irish Coffee is another.
While the Black and Tan is slightly heavier since it's all beer, the Irish Coffee has a lot more kick. See, it's made with Irish whiskey, a seriously hard alcohol. Don't get me wrong, both are good, but if you're looking for something a little classier, the Irish Coffee is absolutely the way to go.
Believe it or not the Irish Coffee didn't start out as a coffee drink. It was actually a tea based drink. But in 1942 Joe Sheridan, head bartender at Port of Foyne in Ireland, wanted to make the drink more attractive to Americans who flew in and out of the airport. Since he knew how much we like our coffee, he turned the classic Irish drink on its head and decided to use coffee instead of the standard tea. The chilled passengers were so happy with the concoction the Irish Coffee recipe was born. But how did that recipe make it across the pond?
In 1952 San Francisco bartender Jack Koeppler and travel writer Stanton Delaplane decided to recreate the coffee drink Stanton had sampled at Port of Foyne. After several Irish Coffee experiments gone wrong, Jack realized they had to use quality Irish whiskey and lightly whip the cream in order to recreate the original. And that's how the American version of the Irish Coffee was born. As a matter of fact there's a plaque on the wall outside the San Francisco bar that states the first Irish Coffee was served there.
So no matter which Irish pub you venture into on Sunday, stay away from the green beer this year and order yourself a nice strong Irish Coffee. Trust me, you'll be very happy you decided to just wear green instead of drink it.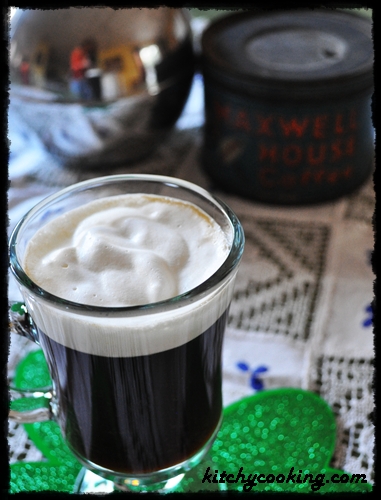 Irish Coffee
Ingredients:
2 tsp. brown sugar
2 oz. Irish Whiskey
4 oz. hot coffee
1 oz. whipped cream
Directions:
Pour the whiskey into a clear glass coffee mug or wine goblet.
Add the sugar and stir until dissolved.
Add the hot coffee.
Gently pour in the lightly whipped cream over a spoon so it won't mix with the coffee. Do not stir the cream into the coffee. Serve immediately.