Scotch Eggs
March 28, 2013
by Jennifer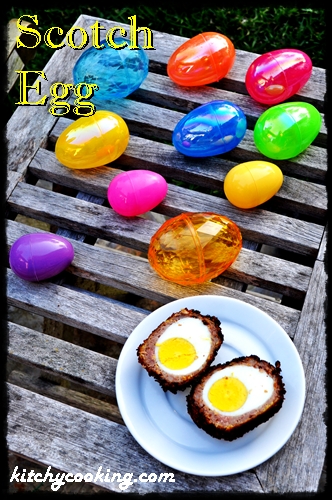 Easter's Sunday and that means there will be lots of eggs being hunted and probably twice as many being eaten, especially for brunch.  So I thought I'd give you an alternative to the egg casseroles and omelettes you see this time of year. The Scotch Egg.
I'd never heard of a Scotch Egg before but evidently they're the pub snack in England and have been around for-ever. Although typically made with hard boiled eggs, sausage and bread crumbs, you can use whatever you want for the second layer, from ground beef to pork to even a veggie version.  But since I'm a serious carnivore, I opted for the meat version, specifically breakfast sausage. And instead of bread crumbs, Bon Appetit suggested corn flakes. It was the corn flakes that actually made me think this very popular late night snack was more appropriate for brunch.
But the best news is, since you can boil the eggs a day or two in advance, these make the perfect choice for Easter brunch. See, they'll be ready in a very short amount of time, leaving plenty of time to hunt for those brightly colored eggs and gorging on all the chocolate yumminess inside.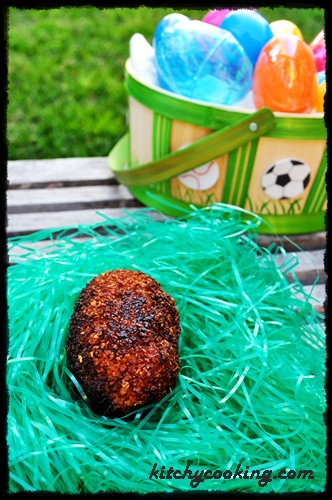 Scotch Eggs
Ingredients:
6 large eggs, divided
1 cup flour
2 cups corn flakes, finely crushed
12 breakfast sausage links, casings removed
salt and pepper to taste
1 cup vegetable oil
1 cup mustard
Directions:
Place 4 eggs in a large sauce pan and fill with cold water. Cover the pan and bring to a boil over high heat. Remove the pan from the heat and let stand for three minutes. Drain, then fill with ice water to cool the eggs. Once the eggs are cool, peel and set aside.
Pour the flour in a small bowl. Lightly beat the remaining eggs in another bowl. Place the crushed corn flakes in a third bowl and set aside.
Take three of the sausage links and roll them into a ball. Flatten into a thin patty the length of your hand. Lay the hard boiled egg in the middle of the sausage and wrap the sausage around the egg, sealing it with your fingers so the egg is completely enveloped in the sausage. Repeat with the remaining eggs.
Dip each sausage-wrapped egg into the flour, then the egg wash and finally the corn flakes.
Fill a large skillet with the vegetable oil and heat over a medium-high flame until the temperature hits 375°F. Add the eggs to the oil and fry them for about 5 or 6 minutes, turning them occasionally, until the sausage is cooked through the breading is golden brown.
Transfer the eggs to a paper-lined plate to drain and serve with mustard.