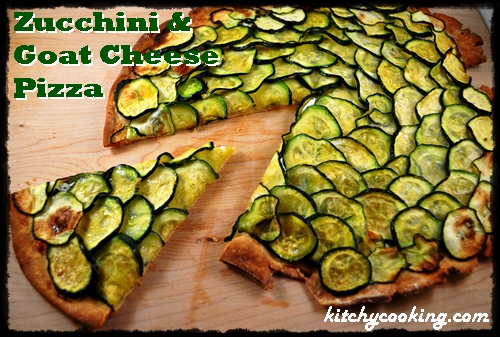 I'm always trying to get my son to eat more vegetables. It's really hard! Sure he loves sweet potatoes and regular white potatoes (if they're in french fry form), he even likes carrots. But anything else, especially if it's green… forget about it. And while he keeps ignoring the vegetables on his plate, I still try and give them to him. Well a couple weeks ago I found one guaranteed way to get him to gobble up those awful greens. Turn them into a pizza!
I know what you're thinking, "Of course your son will eat his greens, they're in pizza form. How much zucchini could you really have on there?' I'll tell you, the whole pizza is zucchini. There's no mozzarella cheese or tomato sauce, just a very thin layer of goat cheese for extra flavor. Which means this is one super healthy pizza. But it's not just healthy, it's seriously tasty! So tasty in fact that my son, who hates green veggies, gobbled up two whole pieces.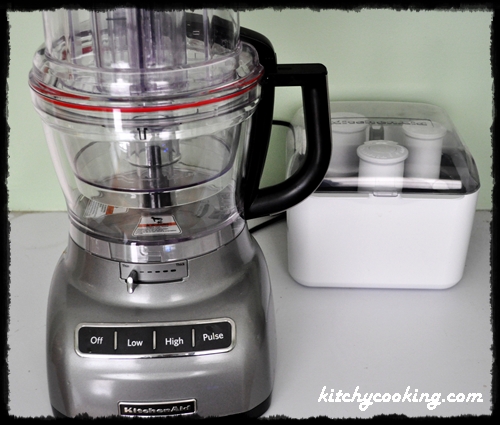 While I would've made this pizza from fine Cooking no matter what, my KitchenAid food processor made it a super cinch! I adore KitchenAid. Their stand mixer has been sitting on my counter for the past 8 years and I used it all the time. So when my old food processor died several months ago, KitchenAid was nice enough to send me a new one. It's a good thing, too because I had no idea what I was going to do without it. I'm not exaggerating when I say I use my processor to make everything from baby food to pie crusts, to soups and sauces. But KitchenAid didn't just send me any old processor, they sent me their cool 13-cup food processor.
This appliance is awesome. It not only runs very smoothly, slicing vegetables like zucchini is so easy my son can do it, and actually did. What I especially love about this processor though, is that I can adjust how thick my slices are while it's running. And that's a good thing because I needed to do just that while I was making this pizza. See, when I first started slicing my zucchini, the rounds were way too thick. But by the time I was done, they were paper thin just like they're supposed to be. It was so amazing, I can't wait to slice or chop up something else in there. Hmmm… maybe next week A and I can make a sweet potato pizza.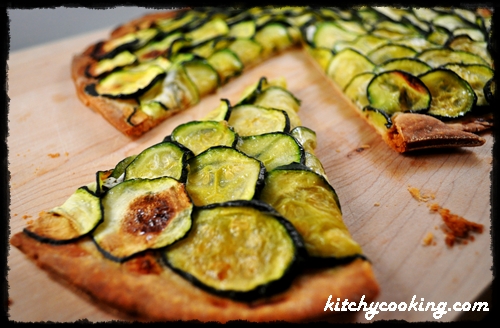 Zucchini & Goat Cheese Pizza

Ingredients:
1-1/4 cups flour
3 Tbsp. unsalted butter
3 tsp. kosher salt, divided
1/2 tsp. white vinegar
4 Tbsp. cold water
1-1/2 pounds zucchini, thinly sliced
2 Tbsp. olive oil, divided
8 oz. herb goat cheese, softened
Directions:
Pulse the flour, butter and 1 teaspoon of salt in a food processor until the butter is the size of small peas. Add the vinegar and cold water and continue to pulse until the dough comes together. Shape the dough into a large disc, wrap in plastic wrap and chill for 30 minutes.
Preheat the oven to 400°F.
Roll the dough out onto a floured surface into an 11-inch circle that's 1/4-inch thick. Place on a baking sheet and set aside.
Trim the zucchini and slice into 1/8-inch thick rounds using a food processor.
Toss the zucchini with the remaining salt and let drain in a colander for at least 30 minutes. Squeeze the slices to release the excess water and transfer to a large bowl.
Spread the cheese over the dough, leaving a 1/2-inch boarder.
Toss the zucchini with 1 tablespoon of olive oil and arrange the slices in tightly overlapping concentric circles all the way to the edge of the dough. Drizzle the remaining oil over the whole pizza and bake until the zucchini begins to brown, 40-50 minutes. Slice and serve immediately.
This post was not sponsored by KitchenAid.