Mushroom Quinoa Risotto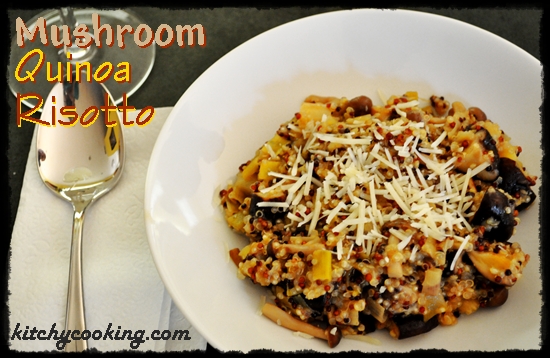 I love couscous and rice. Both are great side dishes and rice makes a wonderful risotto. I eat them both pretty often as they're wonderful with chicken, fish and even steak. Quinoa also makes a delightful side dish, however I have never, ever been a fan. See, I've tried to make it a few times and it's just never turned out. There was always a bitter aftertaste that didn't sit well. So, I'd pretty much given up on quinoa until it came as a side salad with a sandwich I ordered at a restaurant. It was out of this world which of course piqued my curiosity.
Then a very good friend of mine kept telling me what a huge fan she was of quinoa. I told her how I'd tried to cook it and it never seemed to turn out. She asked if I was rinsing it before cooking it and I admitted I didn't know I was supposed to rinse it first. She smiled and said rinsing was the key. If I rinsed it thoroughly I'd probably love it. So I decided to give it another shot. And since I love risotto, I thought I'd make a risotto using quinoa instead of rice. My friend was right: rinsing made all the difference.
Know what else made a difference? The Parmesan cheese and mushrooms.  Not only did the cheese and mushrooms add a great earthiness to the dish, the mushrooms made it significantly healthier. I've always been a big mushroom fan but I never knew the health benefits or that you should never, ever eat mushrooms raw as they're essentially indigestible and contain small amounts of toxins. That's sort of a scary thought considering I've spent many years eating raw mushrooms in salads. Hopefully I'll live long enough to finish this post. Anyway, it turns out it's best to cook the mushrooms before eating them as the heat releases their nutrients and certain proteins. Maybe that's why they've been used as both food and medicines in Asia for centuries. According to Dr. Andrew Weil, a regular contributor to Prevention Magazine, the best types of mushrooms to use are shiitake, maitake and oyster.
I used shiitake and maitake in my risotto which means I not only reduced the risk of several types of cancer, the maitakes have an immune-enhancing effect which means I'll be able to ward off the common cold a little more effectively. And with two sons who are constantly catching colds, it's nice to know one of my favorite fungi will help keep it at bay. But just because these are the mushrooms I used doesn't mean you have to. Feel free to use any mushrooms you like, except button as they offer no health benefits whatsoever.  Too bad too because button and cremini are my favorite mushrooms. Oh well, good thing shiitakes are readily available at my local grocery store.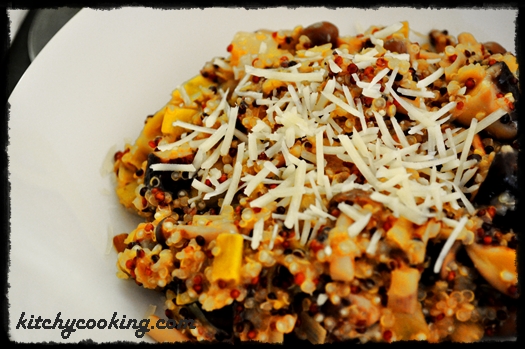 Mushroom Quinoa Risotto
Ingredients:
1 Tbsp. olive oil
1 Tbsp. butter
6 oz. mixed Asian mushrooms
1 leek, white and pale green parts chopped
1 cup quinoa
1/2 cup dry white wine
4 cups chicken broth
1/2 cup Parmesan cheese
Directions:
Heat the chicken stock in a sauce pan and keep warm.
Heat the oil and butter in a large skillet over medium-high heat. Add the mushrooms and cook until the juices start to release and they're golden, about 5 minutes. Transfer to a plate and keep warm.
Add the leeks to the pan and cook until tender, about 6 minutes.
Stir in the quinoa and white wine. Reduce the heat to medium-low and simmer until the the liquid is absorbed.  Add the chicken broth a half cup at a time and stir until the liquid is absorbed. Repeat this process until all the chicken broth has been used and the quinoa is translucent in color. This process should take about 20 minutes.
Stir in the mushrooms and Parmesan cheese until combined. Season with salt and pepper to taste. Serve immediately.