Parmesan-stuffed Chicken with Strawberries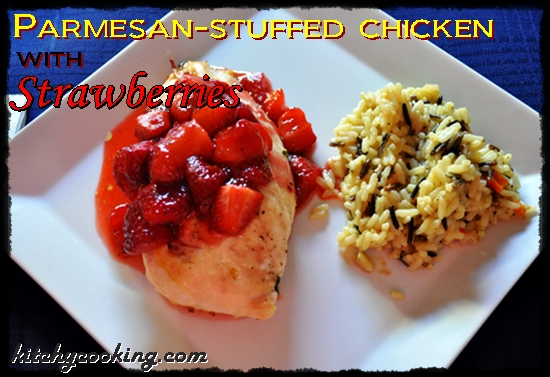 It's officially strawberry season. While most of us have been able to get strawberries all year, the fact that it's not officially strawberry season means not only will the prices go down at the grocery stores and farmer's markets but they're going to be super sweet and seriously delicious.
It's during this time of year that my mind goes wild with possibilities. Of course the first thing I think of are baked goods like strawberry rhubarb muffins or strawberry short cake.  Then I go to cold options like popsicles and ice cream. But since I'm trying to lose the last of my baby weight and I'm not eating as many sweet things, I think about how I can use those luscious red berries in non-fattening recipes. Well, last week Better Homes and Gardens came to my rescue. They suggested making a sauce for a stuffed chicken breast – the perfect answer to my quest.
I've always loved mixing salty and sweet flavors together. Because of my serious sweet tooth, I'm always trying to find ways to add a sweet kick to savory entrees. And the best way to do that is to add fruit or fruit juices. This strawberry sauce is the best of both worlds because it's made with fresh whole strawberries, strawberry jam and vinegar. Then everything is mixed together and cooked in the oven until it's thick and bubbling. It's soooooo delicious, I could've eaten the sauce all by itself. While it goes well with chicken, I'm sure it'd be just as wonderful over lamb or a savory waffle. But the best news about this awesome sauce is that my son was a fan too. And since we all enjoyed it, I bet you will as well.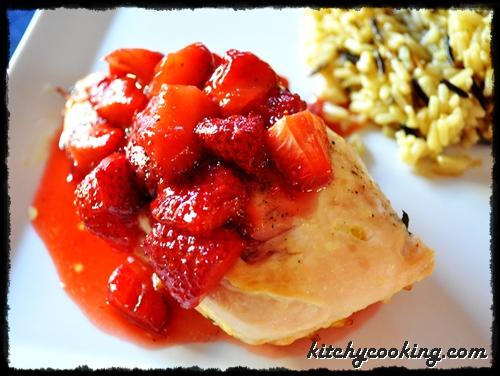 Parmesan-stuffed Chicken with Strawberries
Serves 6
Ingredients:
3 cups fresh strawberries, hulled and chopped
1/4 cup strawberry jam
2 tablespoons white balsamic vinegar
salt and pepper to taste
1/2 cup shredded Parmesan cheese
6 basil leaves, chopped
6 boneless, skinless chicken breasts
1 tablespoon olive oil
2 cloves garlic, minced
Directions:
Preheat oven to 400°F.
Place the strawberries in an ungreased baking dish with the jam, vinegar, salt and pepper and set aside.
In a medium bowl mix together the cheese and basil and set aside.
Using a small, sharp knife slice a pocket into each chicken breast. Stuff the cheese mixture into the chicken and secure the pocket with toothpicks. Sprinkle the chicken with salt and pepper.
Heat the olive oil in a large oven-proof skillet over medium-high heat. Add the garlic and stir for one minute. Add the chicken and cook for about 5 minutes, turning once, until they're golden brown. Transfer the skillet to the oven and cook for 5 minutes.
Place the baking dish with the strawberry mixture in the oven and cook both the chicken and strawberries for 12 minutes or until the chicken is no longer pink and the strawberry mixture is thick. Place each breast on a plate, cover with the strawberry sauce and serve.