Ward Eight Cocktail
April 5, 2013
by Jennifer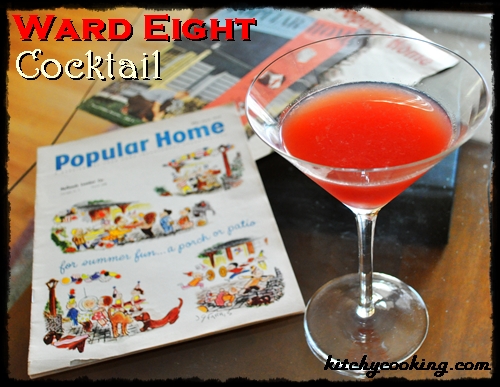 I don't know if I've mentioned this before, but both my parents are from Massachusetts. While I was born right here in sunny Southern California, I spent my formative years traveling back and forth to the east coast visiting relatives and learning all about this country's birth in the actual place where it happened. Paul Revere's house? Seen it. Freedom trail? Walked it. Attended a Red Sox game at Fenway before they won the World Series in '04? You bet! Yes, I've done and/or seen probably all you can when visiting the original colony.
Of course so many visits also means I've tasted a real lobster roll and eaten fried clams at a snack bar on the beach.  And I'm here to tell you that no matter what anyone says, not all lobster rolls are the same. In fact you haven't tasted a lobster roll until you've gotten one at Boston & Maine Fish Company in Faneuil Hall.  But even with all the trips back and forth to the eastern seaboard, I never once encountered a Ward Eight. In fact I'd never even heard of one until very recently. I must admit, I feel a little cheated. How could I have spent so many vacations on the east coast and never heard of or even encountered this drink?  Easy, I wasn't a bourbon drinker.
But now that I am, I have discovered many a classic cocktail that requires the brown liquor and I'm so happy that I discovered this one. If you're partial to Manhattans or Whiskey Sours, you'll adore the Ward Eight. It's kind of a combination of the two but with the added sweetness of grenadine. This cocktail is so smooth and delicious, it could very well be my new favorite bourbon drink.
Since this cocktail hails from Massachusetts, just like the state from whence it came, it definitely has some history.  While the cocktail may sound like it was created in a mental ward, it actually hails from the political side of town. The drink was created in 1898 at the Locke-Ober to commemorate the victory of Martin Lomasney in his race for the legislature of Boston's Eighth Ward.  Did I mention, in true political form, this victory party happened the night before the election?
Well no matter how the drink was created or how crooked the politician was it was named for, this drink is smooth, sweet and gives no regrets until long after its been imbibed.  Wow, it really is a politician… in drink form.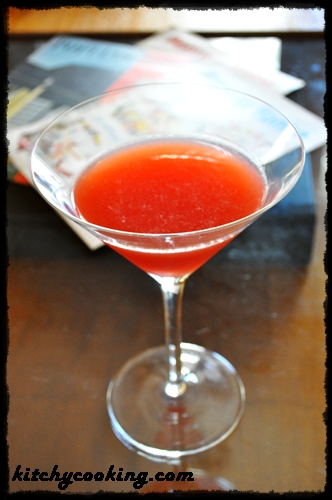 Ward Eight Cocktail
Ingredients:
1-1/2 oz. bourbon
1/2 oz. lemon juice
1/2 oz. orange juice
1 teaspoon grenadine
Directions:
Pour all the ingredients into a cocktail shaker with ice.
Shake vigorously for one minute.
Strain into a cocktail glass and serve.