Bananas Foster French Toast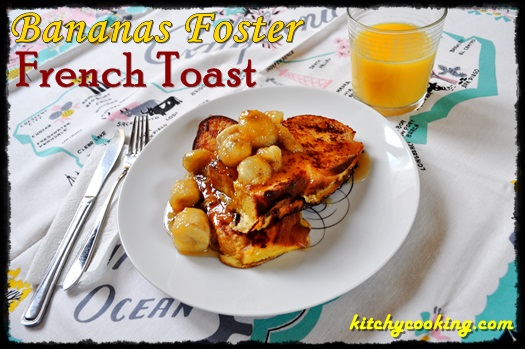 If you're a mom like me, then you know that this Sunday is Mother's Day. And if you're anything like me, you can't wait!  Why? Well because for one day out of the year, you won't have your family wondering "What's for breakfast?" or "What's for dinner?". They won't be wondering what they're eating because ideally they'll be doing the cooking and serving it to you.
While it's true that the last few years have been either going out for food or cooking it myself, my son is finally old enough (he's four) that he and Daddy could actually get together and make me breakfast in bed. Will it be pancakes and bacon or eggs benedict? I doubt it. But even if it's just a bowl full of Cheerios, that's good enough for me; mainly because it means I won't be anywhere near the kitchen.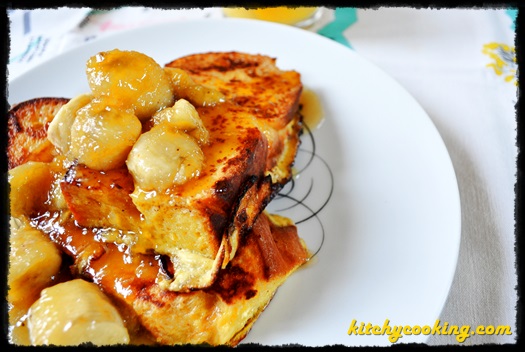 Don't get me wrong. I love my kitchen. Hell, I wouldn't have a food blog if I didn't.  I love cooking and baking and coming up with cool cocktails. But every so often I not only like to be served, I like to have someone else do the cooking; and Mother's Day seems like the perfect day for that happen. If however, you're a mom who cooks and doesn't agree with me… well… you're lying.
So, since you're trying to decide what to make mom for breakfast this year, I can tell you there's nothing better than french toast… unless it's Bananas Foster French Toast. I know, I know… Bananas Foster is a dessert, usually served over vanilla ice cream. But who says it can't be turned into breakfast? I mean we have donuts and coffee cake for breakfast all the time. Why not Bananas Foster? Just substitute the ice cream for some thick challah (or egg bread) and you have a sweet, lip smacking entreé that will make every mother from here to New Orleans thrilled she's a parent. You can make this dish with bourbon or without. Honestly though, unless you're under the age of 21 why would you make it without? I know I wouldn't. But whether or not you decide to add the extra kick, I promise you it's delicious both ways. It's also the perfect way to show Mom how much you love her.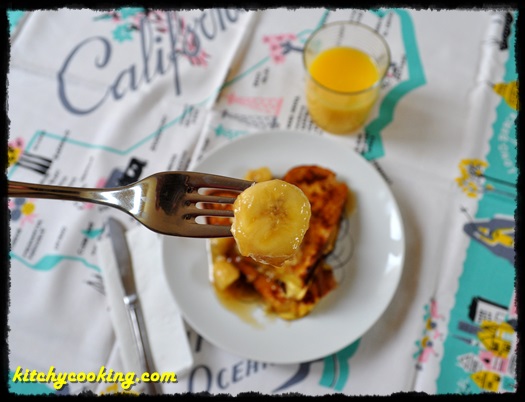 Bananas Foster French Toast
Ingredients:
1 loaf of challah, sliced into nice thick slices
2 cups of heavy cream
4 eggs
1 teaspoon cinnamon
1 tablespoon vanilla
1/2 cup butter, divided
1/2 cup maple syrup
1-2 tablespoons bourbon (optional)
3 ripe bananas, sliced
Directions:
Whisk together the cream, eggs, cinnamon and vanilla in a large bowl.
Melt one tablespoon of butter in a large skillet over medium heat. Dip the bread in the cream mixture, making sure it's soaked through. Place the slice of bread in the skillet and cook, flipping once, for about five minutes, or until it's golden brown. Transfer to a plate, set aside and keep warm. Repeat with the rest of the bread.
Once the french toast is prepared, melt two tablespoons of butter in a medium skillet over medium-high heat. Stir in the maple syrup and bourbon (if you're using it) and cook for one minute. Add the bananas and cook for 3-5 minutes or until the bananas are heated through and covered in the maple/bourbon sauce.
Divide the french toast among the plates, ladle the bananas foster over it and serve immediately.