Gomme Syrup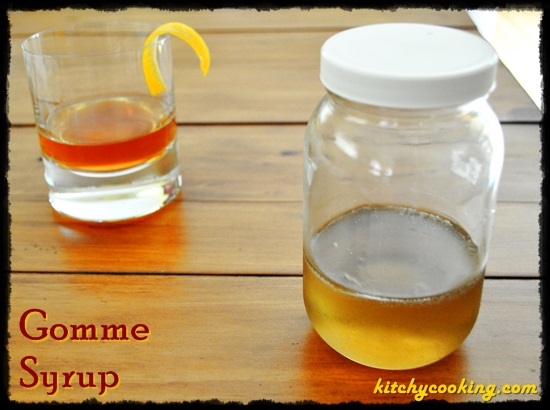 Today's post isn't a cocktail. I know what you're thinking. "Wait, it's Friday! Where's my cocktail? I need my cocktail!" Well, the good news is there are plenty on this blog to choose from including this one which uses the subject of today's post. Yes, it's Gomme Syrup.
What's gomme (or gum) syrup you ask? It's a sweetener that was used in cocktails throughout the nineteenth century instead of simple syrup. But since simple syrup has taken over as the sweetener of choice today, you're probably wondering why you should switch. You don't have to. As a matter of fact, most bartenders still use simple syrup today. But here's why you should seriously consider switching to the classic – flavor. The difference in flavor and texture between a cocktail made with simple syrup and one made with gomme are like night and day. While simple syrup sweetens up the drink quite nicely, the gomme acts as an emulsifier and adds a silky texture that makes the drink so smooth and velvety, it's like drinking a dream. If you've never had a cocktail with gomme in it, you need to… at least once. It's now the only way I make my sazeracs.
If you don't know where to get gomme, no problem. You can make your own.  While it's true, you can buy a bottle for anywhere between $20 and $30, making it is super easy and not nearly as expensive.  All you need is some sugar, a little gum Arabic and water and you're good to go. The one thing about making gomme syrup though, is that it does take time. You have to wait about two hours for the gomme to thicken in order to get that velvety texture I mentioned. But once gelled and combined with the sugar syrup, you have a thick, subtle syrup that will easily be with you for the next few months and a perfect addition to several classic cocktails… or any cocktail that uses simple syrup as part of its recipe.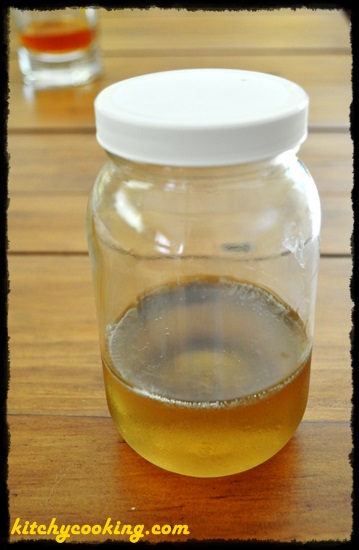 Gomme Syrup
Ingredients:
3/4 cup water, divided
4 tablespoons gum Arabic powder
1 cup sugar
Directions:
Boil 1/4 cup of water over high heat.
Place the powder in a large glass cup and slowly add the hot water, stirring constantly until the powder is dissolved. Set aside. Let this mixture stand for 2-3 hours until it looks like gel.
Dissolve the sugar in the remaining water in a small saucepan over medium heat. Remove the sugar mixture from the heat and slowly add the gum mixture, stirring constantly.
Simmer the syrup over low heat, stirring constantly, for about five minutes. Remove from the heat and let cool. A thin layer of foam will appear on the top of the syrup.
Once the syrup is completely cooled, remove the layer of foam and transfer to a glass jar. This syrup will last in the refrigerator for up to five months.