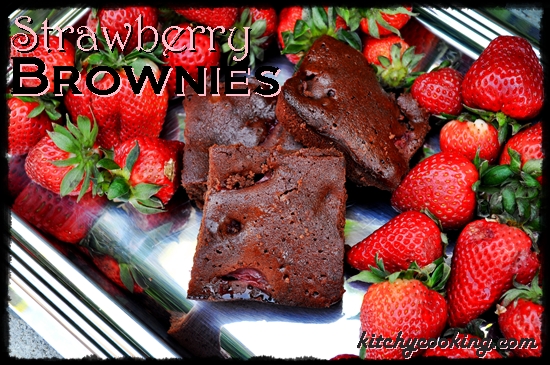 As you may have noticed from previous posts of mine, I love strawberries. I can eat them by themselves for a snack, blended up in a cocktail, or as part of an entreé. But my favorite way to eat them is as a dessert. I love them in cakes and pies but I especially love them with chocolate. I don't care if they're dipped in chocolate or part of a chocolate cake. Give me chocolate and strawberries and I'm a happy pinup.
But while I'm a huge fan of chocolate and strawberries, making chocolate covered strawberries intimidates the hell out of me. I don't know why, I mean it's just melting chocolate and dipping strawberries into it. I guess it's the fact that they take forever to make and the strawberries you get from chocolate stores around Valentine's Day and anniversaries are so perfect and pretty and mine… well mine aren't. Mine taste good, but they're a gloppy chocolaty mess. So, I don't make chocolate covered strawberries. I find other ways to combine chocolate and strawberries.
That's how I came up with these. See, I love my Black Forest Brownies, so I thought why couldn't I just substitute strawberries for the cherries? Why couldn't I just add some strawberry goodness to a gooey batch of brownies? I could! And I did! And the result? Awesome! They're still rich and super chocolaty, but now you have the sweet tang of strawberries as well. Best of all, they're much easier to make than chocolate covered strawberries because you don't have to dip each and every strawberry into a hot pot of melted chocolate. Since all the strawberries get folded into the batter at the same time, you save a ton of time and you don't need to worry about how pretty they are. You still get the delicious flavor of chocolate covered strawberries without the precision needed when making chocolate covered strawberries.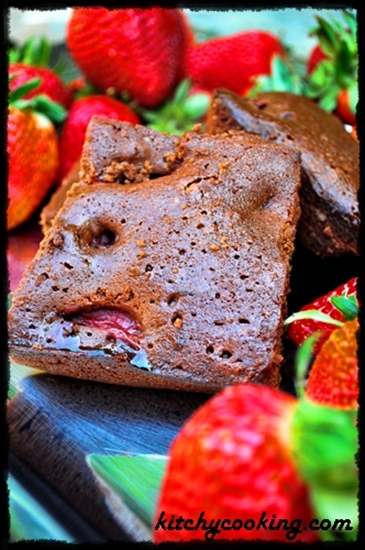 Strawberry Brownies
Ingredients:
1 cup of butter (2 sticks)
4 squares of unsweetened chocolate
2 cups of sugar
4 eggs
1 cup of flour
1 tsp vanilla
1-1/2 cups strawberries, chopped
Directions:
Preheat the oven to 350°F and grease a 9×13 pan.
Melt the butter and chocolate in a small pan over a low flame.
Pour the melted butter and chocolate into a mixing bowl and beat in the sugar one cup at a time. Beat in the eggs one at a time.  Add the vanilla.  Gradually mix in the flour. Then fold in the strawberries.
Pour the batter into a greased 9×13 pan and bake for 45 minutes. (I like my brownies really fudgy so I only cook them for 40 minutes.) Let them cool in the pan for 10 minutes before cutting.