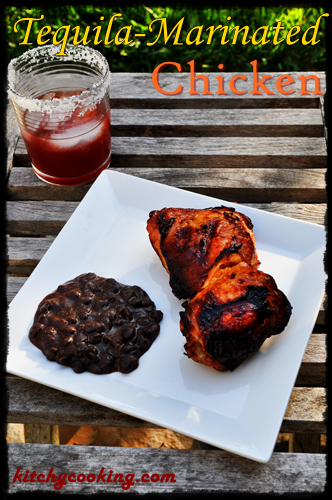 It's that time of year again: when every Mexican restaurant and bar you can think of will be full of people drinking margaritas and eating tacos to celebrate Cinco de Mayo. But since I'm not a big fan of crowds, I prefer to celebrate these types of holidays at home. And since Cinco de Mayo falls on Sunday this year, it's the perfect opportunity to get some friends together and have a party in the backyard with some delicious chicken off the grill.
Cinco de Mayo is about three things: celebrating the victory of the Mexican militia over the French army at the Battle of Puebla in 1862, eating good food with friends and drinking tequila cocktails. But who says the tequila has to be limited to shots and margaritas? Mix it up with some lime juice and you've got a delicious marinade that adds a nice little kick to your Mexican feast (and fiesta).
While tequila goes with pretty much every protein, my favorite is chicken. And the best way to share chicken with a group? Grill it up on the barbecue of course. Trust me, the smokiness from the grill combined with the tequila/citrus marinade only enhances the flavor of the chicken. Serve it up with some Spanish rice or black beans and you have a kick-ass entree to share with your guests.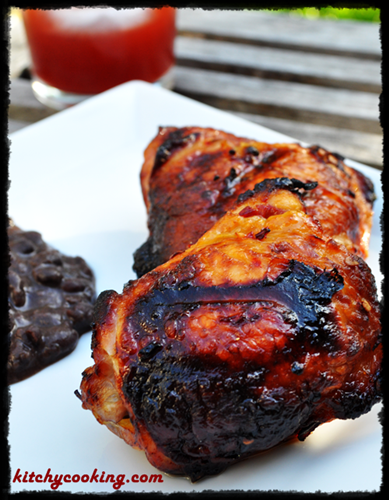 Tequila-Marinated Chicken
Ingredients:
12 bone-in chicken thighs
1/2 cup orange juice
1/4 cup tequila
juice of 2 limes
2 chipotle peppers finely chopped
1 teaspoon oregano
3 garlic cloves, minced
salt and pepper to taste
Directions:
Place the chicken in a resealable bag.
Whisk together the orange juice, tequila, lime juice, chipotle pepper, oregano, garlic, salt and pepper in a medium bowl.  Pour the marinade over the chicken, seal the bag and marinate in the refrigerator for at least 4 hours, turning the bag occasionally. Drain the chicken and reserve the marinade.
Preheat the grill to 375°F and adjust the flames for indirect heat. Spray the grill with cooking spray and place the chicken on the grill plates. Cover and cook for 50-60 minutes, or until the chicken is no longer pink. While the chicken cooks, brush the marinade over the thighs a few times and flip them. Once done, serve with rice or beans and a nice, cool margarita.