The Aviation Cocktail and an Anniversary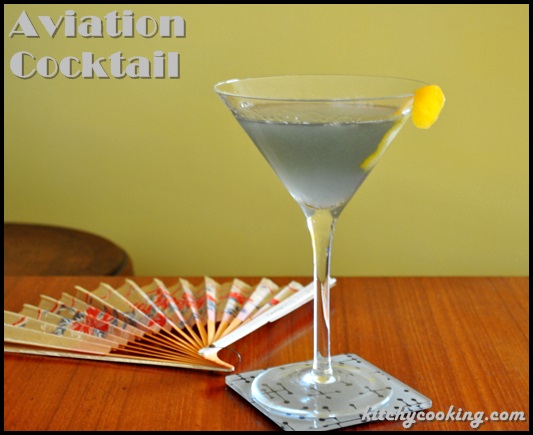 If you were following my Instagram updates last Saturday night you know that my husband and I were celebrating our 9th anniversary.
I can't believe it's been nine years. A lot's happened. In that time we bought and refurbished a house, have had two children (both boys) and I started this blog. It's been an amazing ride with a man I love very much. Saturday night is the reason why.
No, it's not because he took me out and got me a little blue box. Although, don't get me wrong, that was very nice. It's because of how well he knows me. He knows I'm a carnivore and cocktail girl. He knows I love the art deco period and he knows I adore the theater. So, keeping all that in mind, he reserved an outdoor table at Nick + Stef's where we started with a dirty martini (me) and a sazerac (hubs) and segued to some delicious dry-aged steak with a few delectable sides. We didn't have time for dessert because we had to get to the theater to see The Scottsboro Boys, a phenomenal show about the Scottsboro Boys case which happened in the 30's. But don't worry, I got my sweet treat. After the show we stopped in at Noé for drinks and dessert. It was at this little bar that I finally got to taste today's cocktail – the Aviation.
See, I'd heard about the Aviation before, but every recipe I'd seen, and there were a few, included pineapple juice. I'm allergic to pineapple so I can't have anything, whether it be food or drink, that has pineapple in it. A pineapple upside down cake? Never tasted one. A mai tai? All those times I've visited tropical locales and I've never even had a sip. So when I saw an Aviation on the menu at Noé that didn't have pineapple in it, I just had to try it.
Upon talking to Tyler, the manager who, like myself, is a "nerd" when it comes to vintage cocktails, I learned that the Aviation has never ever had pineapple juice in it and anyone making it that way should have their bartender's license revoked. The Aviation is actually made with gin, lime juice, maraschino liqueur and Cremé de Violette. It's the Cremé de Violette that gives the cocktail it's beautiful bluish hue.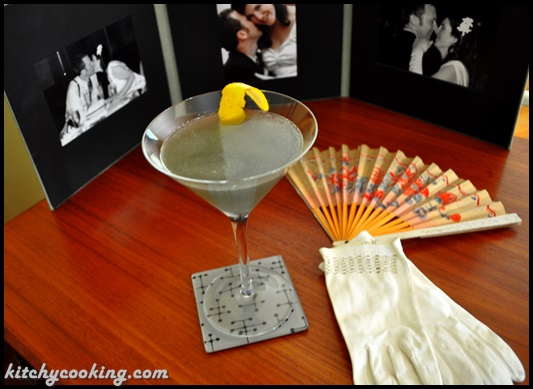 The cocktail has been around since 1916 but lost its popularity thanks to the Prohibition when Cremé de Violette became more and more difficult to find. It finally fell out of existence all together sometime during WWI when the liqueur stopped being made. The loss of the liqueur meant the loss of this classic. Or if it wasn't lost it was made incorrectly. I've actually seen a few recipes that have all the other ingredients except the Cremé de Violette. But if you don't have the Cremé de Violette, you don't have that beautiful blue hue which transports you back to a time full of DC-3's soaring among the clouds above.
Luckily 2007 came along and a box of pristine bottles was found in someone's basement. One of the bottles was taken and reverse processed to discover that the liqueur was made of violets (yes, the flower) and brandy. The Cremé de Violette was recreated and thankfully the Aviation is back among the living. If only current air travel were as sweet as the cocktail for which it was named.
And even though we no longer get dressed up to fly or are served real food on white linen table clothes while floating amongst the clouds, at least we can drink the cocktail that will transport us back to the time when we could.
Happy Anniversary, my dear. Thank you for a lovely evening out and allowing me to finally taste a cocktail I've been dreaming about for ages. Looking forward to another nine years of floating amongst the clouds with you.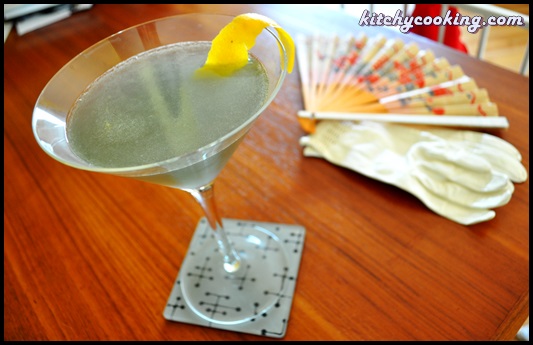 The Aviation
Ingredients:
2 oz. gin
1/2 oz. lime juice
1/4 oz. Luxardo Maraschino liqueur
1/4 oz. Cremé de Violette
Directions:
Place all the ingredients in a cocktail shaker with ice. Shake vigorously for about a minute and strain into a cocktail glass. Garnish with a twist of lemon and serve.