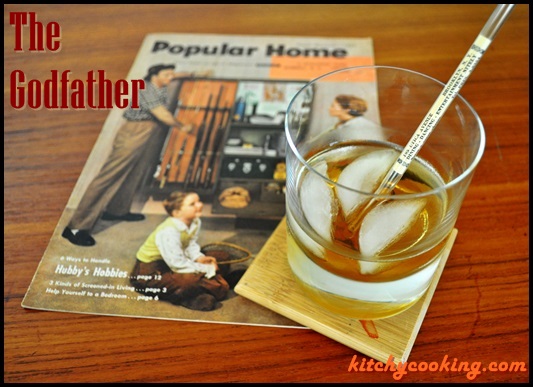 Please bare with me as I step outside of my cocktail comfort zone today.  You see, it's Father's Day on Sunday, and since I wanted to make a cocktail that uses scotch, the Godfather seemed like the perfect choice.  Why is this stepping out of my comfort zone? Well, this cocktail was created in (gasp) the 70's!  I know, I've stated several times that I won't make a cocktail that was created after 1960, but this was a drink I just couldn't refuse.
What makes this cocktail so good? Well it's made with my father's (and husband's) favorite spirit and mine. See both men in my life are big scotch fans. Though neither are hard core drinkers, both believe a glass of good single malt beats pretty much anything out there. As a matter of fact it was my father who once told me "if you're going to have scotch, make sure it's single malt." I passed this bit of advice onto my husband one night when he was standing in the liquor aisle staring at the Johnnie Walker and he's never looked back.  Now don't get me wrong, Johnnie Walker is excellent blended scotch, especially if it's the green or blue label. But it's still a blend. Single malt is well… not.  However for this particular drink, grab the Johnnie Walker, it's perfect for it.
But that's just the scotch. The other liquor in this subtle cocktail is amaretto which is my favorite liquor of choice. While I do love a well-mixed Manhattan or Dirty Martini, when it comes to drinking something straight, amaretto is my first choice, especially when it's over ice. Unlike my father and my husband, I am not a scotch drinker. But add a shot of amaretto and suddenly the harsh flavor of the scotch mellows and becomes a drink worth killing for.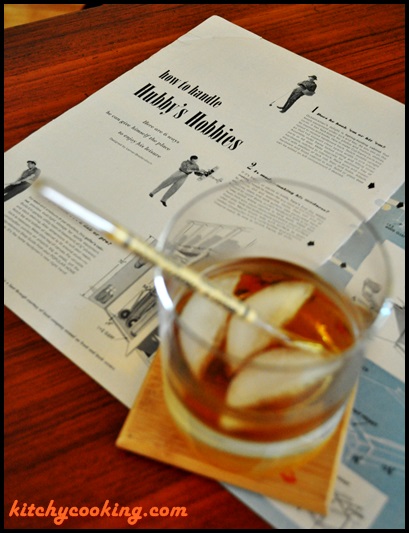 I also picked the cocktail because both my father and husband love the book and movie for which the cocktail was named. There's no real theory on why this combination of liquors garnered the Godfather moniker other than the fact that you have a strong, powerful alcohol in the scotch coupled with the sweet Italian Amaretto. I know it's a stretch, but people have named cocktails using a lot less.
There is only one thing I ask: if you're going to make this cocktail, do not, under any circumstances, use a single malt. Please… use a blend. You're adding another liquor to the scotch after all, so why spend the extra money and ruin a good single malt?  I mean, you don't want to end up sleeping with the fishes do you? Hey, people have been whacked for a lot less.  Sorry, I couldn't help myself.  Happy Father's Day, everyone!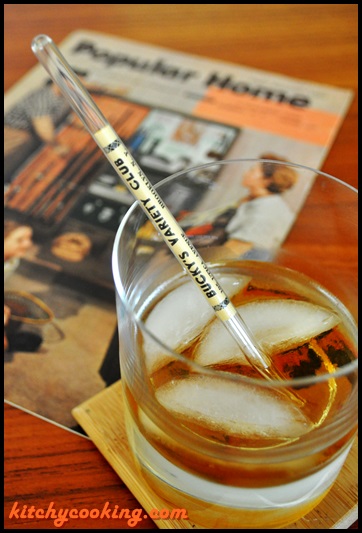 Godfather Cocktail
Ingredients:
1-1/2 oz. scotch
3/4 oz. amaretto
Directions:
Pour both liquors into an old fashioned glass over ice and stir. Serve immediately with a stirrer.