Bourbon Peach Tres Leches Cake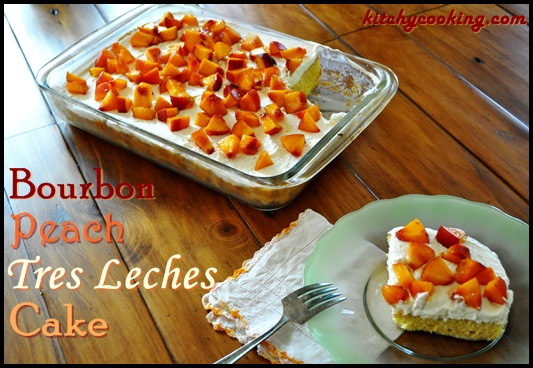 I've been wanting to make this cake since I first saw the recipe for a boozy berry tres leches cake in Fine Cooking last year. If you know me, you know that I love my booze. While it's ideal mixed up in a cocktail, alcohol is also wonderful when mixed into desserts or entrees. As a matter of fact, some of my favorite recipes have a tablespoon or two of rum or bourbon in them. But to put your mind at ease, I want to let you know that I don't just use alcohol because I can. I only add the liquor when it adds depth to the flavors of whatever I'm cooking.  And bourbon definitely adds depth to fresh-from-the-farmer's-market-peaches.
Peach (and stone fruit) season is my favorite time of year because of all the wonderful desserts I can make. And yes, liquor does make it into these desserts every now and again. But even if it doesn't, that's okay because the sweet, tart flavors from all the stone fruits are amazing on their own. I'm just as happy eating a peach plucked straight from the tree as I am chopping it up and putting it in a cookie crust. While it's true there's no cookie crust in this cake, it's still a great vehicle for peaches and, yes, bourbon.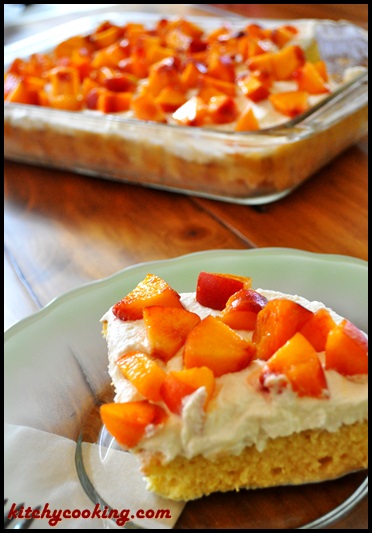 What's especially great about this cake (and why I've been wanting to make it forever) is how insanely moist and rich it is. That moist, richness comes from not one, not two, but three different kinds of milk (hence the name tres leches which translates to three milks). The milk isn't mixed into the cake though. The cake is baked first and then soaked through with a combination of heavy cream, sweetened condensed milk and evaporated milk. Then if that weren't enough, the cake sits in that yummy milk concoction for several hours, so by the time you take a bite, you have a heavenly dessert that literally melts in your mouth.
While it's true you could easily eat this cake plain and be more than satisfied, topping it with some nice tart peaches adds a whole other level to this dessert. Thanks to the tart, fruity flavor, you no longer have something that could be equated with straight sugar. This sour fruit couples with the sweet cake to make this dish as delightful for adults as it is for children.  And while I used peaches and bourbon for this recipe, you could just as easily substitute your favorite berry and couple it with rum, vodka, tequila or no alcohol instead.  But no matter whether you choose to go sweet and sour or just plain sweet, make sure you let the cake soak in the three milks. It's just not Tres Leches Cake if you don't.
Bourbon Peach Tres Leches Cake
Ingredients:
For the cake:
1 cup flour
1-1/2 tsps. baking powder
1/4 tsp. salt
5 eggs
1 cup sugar
1/3 cup whole milk
3/4 tsp. vanilla
For the soaking liquid:
1 (14 oz.) can sweetened condensed milk
1 (12 oz.) can evaporated milk
1/2 cup heavy cream
For the topping:
2-1/2 cups heavy cream
1/4 cup + 1 Tbsp. sugar
4 peaches, pitted and chopped
4 Tbsps. bourbon, separated
1/2 tsp. vanilla
Directions:
Preheat the oven to 350°F. Grease a 9×13 pan and set aside.
Sift together the flour, baking powder and salt in a medium bowl.
Separate the eggs.
Beat the yolks and sugar on medium speed until pale yellow in color. Add the milk and vanilla and beat until just combined.
Beat the egg whites until stiff peaks form.
Whisk 1/3 of the dry ingredients into the yolk mixture until just combined. Gently fold in 1/3 of the egg whites with a rubber spatula until combined. Fold in the remaining egg whites and dry ingredients alternately until fully incorporated.
Pour the batter into the prepared pan and bake for 20-25 minutes or until a toothpick inserted in the center comes out clean.  Let cool in the pan for 10 minutes. Then invert the pan onto a rack and let cool completely.
While the cake is cooling, stir the cream, sweetened condensed milk and evaporated milk in a large saucepan over medium heat until well combined. Continue stirring until the milk mixture begins to bubble around the sides. Remove from heat and set aside.
Once the cake is cooled, return it to the baking pan. Poke the cake with a toothpick to the bottom at 1/2-inch intervals. Slowly pour the milk mixture over the cake, pausing to let it soak in before you add more. Cover loosely with plastic wrap and refrigerate for at least 2 hours and up to 24.
Just before you're ready to serve, mix together the peaches, 1 tablespoon of bourbon and 1 tablespoon of sugar in a medium bowl and set aside. Beat the heavy cream in a large bowl. As it begins to thicken add the remaining sugar, vanilla and remaining bourbon and continue beating until firm peaks form.
Spread the whipped cream mixture over the top of the cake. Spoon the peach mixture over the whipped cream and serve.