Grilled Citrus Sangria
August 9, 2013
by Jennifer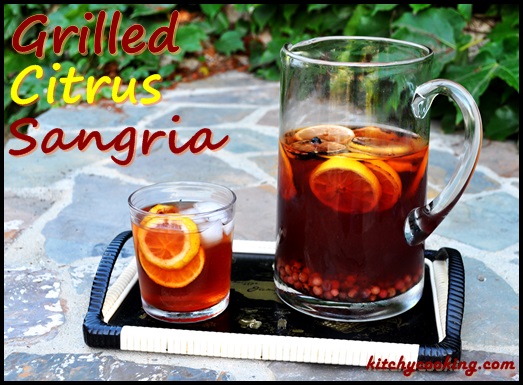 Since it's been so hot, cold drinks have been at the top of my list these days and nothing's better cold than a tall glass of sangria.  You're probably thinking "Sangria? "That's not a classic cocktail. That's something I order at the Mexican restaurant when I go out to eat." While that's true, it's also true that Sangria has been around for pretty much ever… or at least as long as red wine has existed.
Wine has been a European staple for centuries. Since water was unsafe to drink in the 1400's, 1500's, etc., the beverage of choice was red wine. While there were plenty of varieties, people often chose to liven things up by adding fruit and spices to their wine. This would become a punch that was served all over Europe. It went by many different names, but the locals in Spain called it Sangria.  How did Sangria finally make its way over to our side of the pond? Well, it's believed that we finally got to taste the delicious elixir thanks to the 1964 World's Fair in New York, and I for one am very happy we were introduced.
But want to hear something strange? I am not a red wine fan. I hate merlot, cab, malbec… you get the picture. I don't like them because they're just too dry for me. But as soon as you mix that red wine with fruit and brandy, I'm all in. See, the reason I prefer whites over reds is that I like the crisp, fruitier tastes that come with a white. Even the dry whites like chardonnay taste sweeter to me. So adding fruit to the red wines adds that sweeter, fruity flavor I love and immediately gets me back on board with the reds.
But what I really love about sangria is that you can make it year round and have a different flavor every time. In the fall, I use apples and pears. Winter, citrus is my fruit of choice. Then spring and summer when berries and stone fruits are in season, it's a smorgasborg of fruity choices.  Want an extra dose of flavor? During the summer months I follow Michael Chiarello's lead and grill the fruit to add a smokey flavor. So, since it's the season of fruit, now is the perfect time to grab your favorites and mix up a pitcher of sangria to enjoy on your own or with friends by the pool.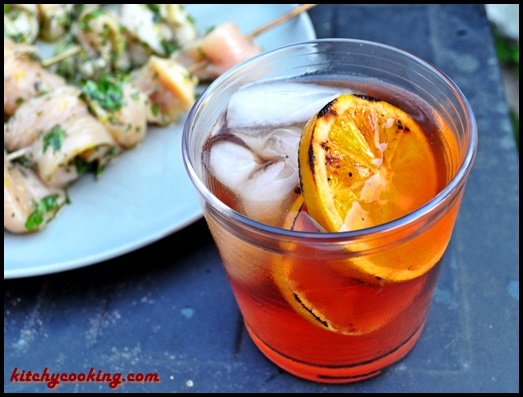 Grilled Citrus Sangria
Ingredients:
1 cup of water
1 cup sugar
1 (750 ml) bottle of Rosé
1 (750 ml) bottle of Cabernet Sauvignon
1 cup seedless champagne grapes
2 oranges, cut into 1/2-inch slices
2 lemons, cut into 1/2-inch slices
1 cup brandy
Directions:
Stir together the water and sugar in a small sauce pan over high heat until combined. Bring to a boil and cook until the sugar is completely dissolved, about 5 minutes. Remove the syrup from the heat, let cool and set aside.
Light a charcoal grill. Place the grapes in a grill basket and grill over high heat until they just start to burst, about 5 minutes. Transfer the grapes to a plate to cool.
Grill the oranges and lemons over high heat, flipping once, until lightly charred, about 5 minutes. Transfer to a plate to cool.
Combine the rosé, cabernet, sugar syrup, brandy and grilled fruit together in a large  pitcher and stir well. Refrigerate for at least 2 hours and up to over night. The longer you refrigerate the sangria the more the flavors have a chance to blend together and the better the sangria will be. Serve over ice.