Honeyed Fig and Goat Cheese Tart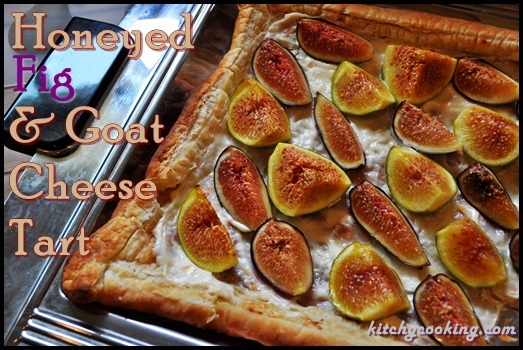 Fig season is here! Actually it's been here for a couple months already. But I was so focused on peach season, I completely forgot about the figs. Well, I didn't totally forget about them, I have been eating them raw by the basketful. But unlike the peaches, which I've been a fan of since, well, birth, my appreciation of figs is a relatively new thing.
See, up until a couple years ago, the only way I enjoyed my figs were in Newton form. But that all changed when my mother practically force-fed me a fresh Black Mission Fig. I couldn't believe how sweet they were, just like the cookie. And like so many of my other favorite fruits, you could eat them right off the tree. Since that encounter, I look forward to fig season almost as much as I look forward to peach season.
The good news is that fig season is almost as long as peach season, especially here in California. Fresh figs are available from the middle of May through the middle of December, depending on the fig. Did you know there are five different varieties? This came as a surprise to me as I was such a big fan of the Black Mission, those pretty purple figs most people think of when they think of figs. But thanks to the California Fig Advisory Board I got to expand my palate and try the Calimyrna Figs which are a pretty pale yellowish green. They're just as yummy, but not quite as sweet as the Black Mission. As a matter of fact, the board compares the flavors of the different figs to the flavors of different wines. A Black Mission has a deep earthy flavor like a Cabernet where as a Calimyrna has a buttery, nutty flavor like a Chardonnay. And since Chardonnays and Cabs tend to pair so well, I thought the Black Missions and the Calimyrnas would be a perfect pairing for this Fig Tart I found in Fine Cooking.
It's super easy to make and can be served in any situation. It can be a dessert or an appetizer. It's perfect for a party or an intimate dinner for two. It can even be served up at brunch or saved for a late dinner. No matter how you choose to eat or serve it, if you like figs, this tart is for you.  And while I chose Black Mission and Calimyrna figs for my tart, you can use any fig you want. Only like Brown Turkeys, make a Turkey tart for Thanksgiving. Are you a fan of all five fig varieties? Then make a rainbow tart. But no matter how you choose to make your tart, it'll make you smile every time.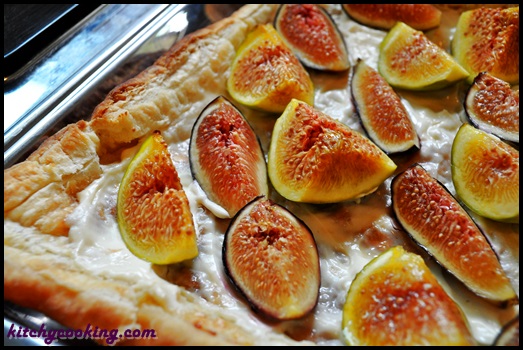 Honeyed Fig and Goat Cheese Tart
Ingredients:
1 sheet frozen puff pastry, thawed
4 0z fresh goat cheese, softened
1/4 cup honey, divided
8 ripe figs, cut into quarters
Directions:
Preheat the oven to 475°F.
Lightly dust a sheet of parchment paper with flour. Unfold the puff pastry and lay it on the parchment. Roll it out to a 10-inch square. Prick all over with a fork. Fold the pastry over to make a 3/4-inch border all the way around. Transfer the pastry to a cookie sheet and bake until golden brown, about 8 minutes.
While the pastry cooks, combine the goat cheese and 2 tablespoons of honey in a medium bowl. Spread the cheese mixture over the pastry inside the boarder.  Arrange the figs on the cheese and bake for another 7-8 minutes, or the rim of the pastry is a nice golden brown.
Drizzle the remaining honey over the whole tart and let cool for 10-15 minutes. Slice and serve.