Planter's Punch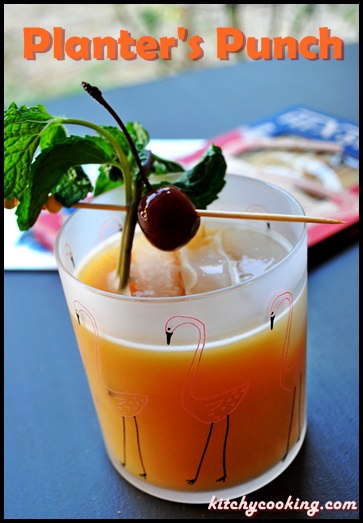 Pretty cool glass, huh? Dorothy from Shockingly Delicious was nice enough to get it for me. She saw it and knew I could put a pretty cool drink into it.
Not only was I touched by the thoughtfulness, I wanted to make something worthy of the glass. Since it has flamingos on it, I wanted something tropical. My first thought was a mai tai, but I wanted to be able to enjoy the drink and since I'm allergic to pineapple juice, a mai tai was out. I kept looking and found this delectable classic. It's so classic in fact, that much like the Tequila Sunrise, the drink we know today as Planter's Punch looks absolutely nothing like the original.  As a matter of fact, you'd be hard pressed to get the exact same drink unless you have the same bartender shake it up for you each and every time.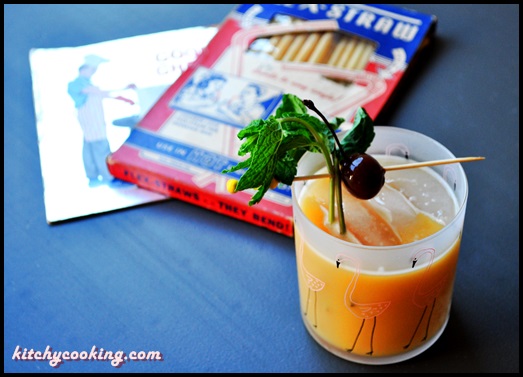 So, yes, turns out there are many variations of this drink. Some have light rum, some have dark, and some have both mixed together. Some have lemon juice, while others use only lime. Some use bitters and some use club soda. With so many recipes floating around how do you remember what to include? Turns out there's a rhyme that's been around almost as long as the drink itself: One of sour, Two of sweet, Three of strong and Four of weak. The sour's usually lime juice (though lemon has been substituted on occasion). The sweet is sugar, syrup or Grenadine. The strong if of course rum. And the weak is usually water. While you'll rarely find water, what you will find is either club soda or ice. Both do the trick nicely, as they temper the drink just enough to make you forget you're ingesting alcohol.
But even with so many concoctions to choose from, a drink always has to start somewhere. This one was supposedly created in 1879 Jamaica when a Jamaican planter's wife whipped it up to cool down the workers. So of course, it's the version I mixed up for this glass's initiation. Not only was this punch deeee-licious, I'm here to tell you the cocktail seemed right at home in this beautiful glass. Thanks, Dorothy. I can't wait to shake up something else for those pretty pink flamingos.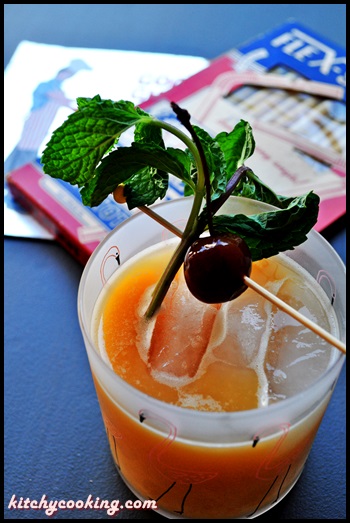 Planter's Punch
Ingredients:
2 oz. dark rum
5-1/2 oz. orange juice
juice of 1 lime
1/2 teaspoon Grenadine
1/4 teaspoon Gomme Syrup
Directions:
Pour all the ingredients into a cocktail shaker. Add ice. Shake vigorously for one minute. Strain into an old fashioned glass and add ice.
Garnish with a Maraschino Cherry and a sprig of mint and serve.