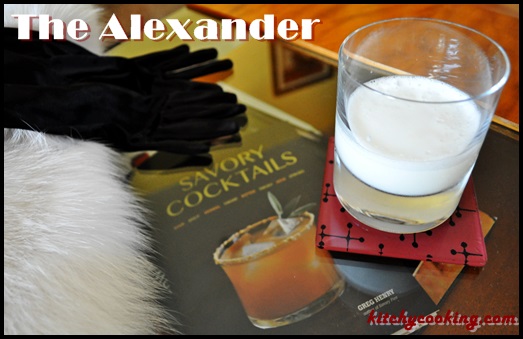 I first met Greg from Sippity Sup at Camp Blogaway a little over three years ago. He was already an established food blogger and Kitchy was barely a year old. We hit it off immediately. He had a lot of great advice, especially when it came to light boxes and photography because if you go to his website you'll see some of the prettiest photos in the food blogging community. But the one subject we really bonded over was alcohol.
See, Greg's as big a fan of cocktails as I am, especially the classics. So, when Greg put out his second cook book focusing on cocktails, I knew I needed to get a copy. He not only sent me one, but promised that my readers could get one as well.  And are you in for a treat.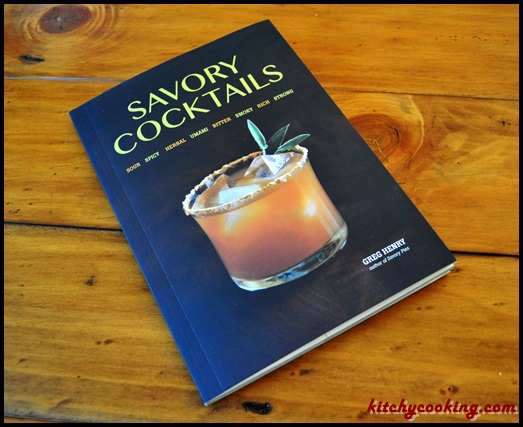 This cook book isn't like other cocktail books out there. It's made up of a variety of drinks that are both classics and newbies. Some are created by the author, a few are classics and others are from some of Henry's favorite bartenders across the country. But what makes this book especially unique is that it's not broken down by alcohol. That's right there's no gin or vodka chapters. Instead, this book breaks down the cocktails according to flavor. Of course there's sour and strong (two of my favorites) but there's also the more unusual headings of spicy, herbal and smoky.
My favorite chapter however, has got to be the umami chapter. What exactly is umami? According to Henry, it's when certain amino acids combine to "make things taste more intense, more rounded (and hence) more complete." Things like soy sauce, miso, shellfish, toasted nuts and even anchovies are classic umami flavor boosters. A classic umami cocktail? Why the Bloody Mary of course. Since I've already posted a Bloody Mary recipe though, I thought I'd try something new.
I found my drink of choice (a classic of course) in the Rich chapter. While rich to me usually means sweet and heavy, Henry is quick to point out that a rich drink doesn't need to be "sweet and cloying". A cocktail can be rich by simply adding eggs or cream to turn it into a thick, and utterly delightful concoction. Eggs and cream were actually used frequently during the Prohibition to hide impurities found in cheaper alcohols like bathtub gin. But today's Alexander doesn't have a single impurity in it, especially if you use a high end gin. It's just a delightful after dinner drink that could be served with a chocolate dessert or all by itself.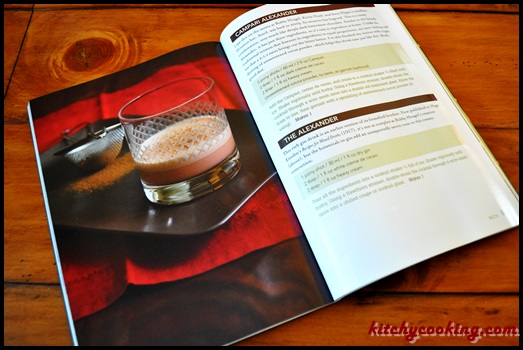 And now that your mouth is watering, I have some good news: I happen to have one of these awesome books to give away.
HERE'S HOW YOU WIN: (Main entry required.) All you have to do is leave me a comment telling me what your favorite cocktail is. It doesn't have to be a classic, just what you usually order when you go to a bar.
Want extra entries?
Each item you do will get you one chance to win (for a total of five chances). If you already do any of these things they do count! So make sure to leave a separate comment for each item.
Follow @kitchycooker on Twitter and tweet the following with a link back in the comments to your tweet: "I just entered to win Savory Cocktails from @kitchycooker and @sippitysup. Have you? http://www.kitchycooking.com/2013/09/the-alexander-and-a-giveaway/
Like my facebook page.
Like Sippity Sup's facebook page.
Subscribe to the Kitchy Cooking RSS feed.
The Fine Print
This giveaway is only open to residents of the 50 United States. (Sorry, shipping to Europe and Canada's pricey.)
Giveaway will end on Friday, Sepetember 27th at 11:59 pm PST. One winner with a valid entry will be chosen via a random number generator at random.org.  The winner will then be notified via the e-mail they provide when they leave a comment.
Winner has until September 30th at 10 pm PST to claim their prize or I'll pick another winner.
Now that I've laid out all the nitty gritty details, here's what you've all been waiting for – the recipe for this delectable cocktail.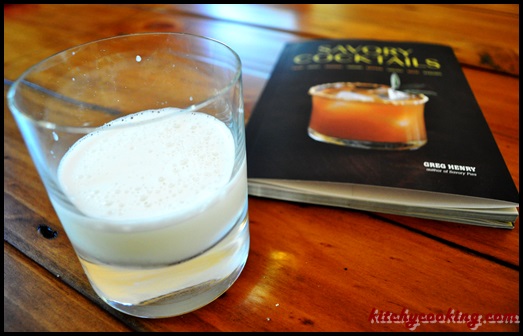 The Alexander
Ingredients:
1 oz. dry gin
1 oz. white crème de cacao
1 oz. heavy cream
Directions:
Pour all the ingredients into a cocktail shaker. Add ice. Shake vigorously until frothy.
Double-strain the cocktail through a wire-mesh sieve into a chilled cocktail glass and serve.