Chocolate Rum Torte
December 18, 2013
by Jennifer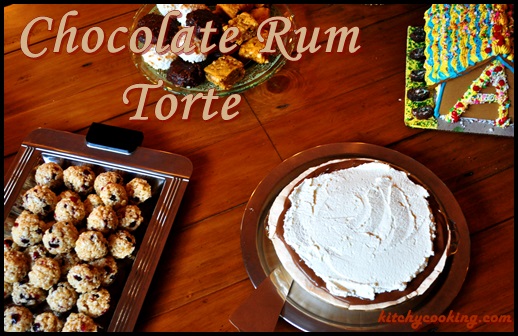 Since we're right smack dab in the middle of the holidays, I wanted to make sure I got this recipe up. It's a pie that's been in my family for years and is always a big hit.  I know pumpkin and apple are the popular pies of the season, but chocolate always seems to find its way on to many a dessert table, too. While chocolate usually shows up in candy or cookie form, there's no rule that says it can't appear as something else. What form do I choose this time of year? I choose pie form. Don't get me wrong, I love a good apple pie. But if I have to choose between apple or chocolate, I'm going with chocolate every time! Why? Because this isn't your standard chocolate pie. This is a delightfully decadent chocolate mousse pie. That's right, chocolate mousse. But don't worry, this dessert isn't heavy at all. It's actually quite light.
How does a chocolate pie become a light and fluffy showstopper? Why, from all the egg whites of course. But the egg whites aren't just in the mousse. They're in the crust, too. That's right, this pie doesn't have a standard flour and butter crust. It's made of one hundred percent meringue.  It's that combination of mousse and meringue that have been making this dessert a winner for generations.
Yes, I said generations. See, my mother's been making this pie for as long as I can remember and her mother before her. I (along with the rest of the family) was always thrilled when it made an appearance on our holiday table. While there are several steps which make it a more time consuming dessert, a recipe doesn't stick around for generations unless it's good, and this recipe is fan-freaking-tastic!
So, instead of bringing a chocolate cookie to your holiday soiree this year, why not change things up and bring a pie. You (and the pie) will be the hit of the party.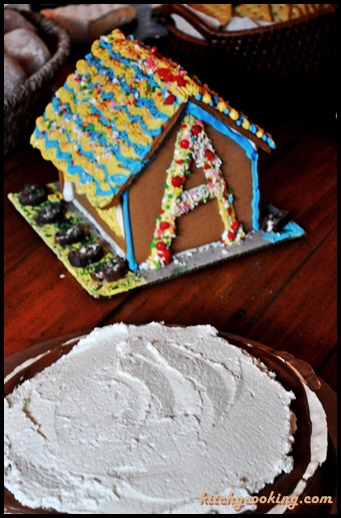 Chocolate Rum Torte
Ingredients:
For the meringue crust:
1 cup of sugar
4 egg whites
1/4 teaspoon cream of tartar
For the chocolate mousse filling:
1 (12 oz.) package of semi-sweet chocolate chips
1 egg
4 egg yolks
3 egg whites
1-1/2 teaspoons rum
1-1/2 cups heavy cream + more for garnish
Directions:
For the meringue crust:
Preheat the oven to 275° F and grease a 10-inch pie plate, making sure you grease the sides as well. Set aside.
Beat the egg whites until stiff.
With the mixer on, gradually add the sugar and cream of tartar until well blended and the whites are shiny.
Spread the meringue in the prepared pie plate, making sure it comes all the way up the sides.
Put in the oven and bake for 1 hour.  Once the buzzer sounds, turn off the oven but leave the crust inside overnight. DO NOT OPEN THE OVEN.
 For the chocolate mousse filling:
Melt the chocolate chips in a double boiler over medium-high heat until completely melted and smooth.
Remove the chocolate from heat and beat in the egg.
Add the egg yolks one a time, beating after each one.
Add the rum.
In a separate bowl, beat the whites until stiff peaks form. Fold the whites into the chocolate mixture until fully combined.
In another bowl, beat the cream until stiff. Fold the cream into the chocolate mixture until fully combined. Pour the chocolate mixture into the meringue pie shell and chill in the refrigerator for at least 3 hours.
Once you're ready to serve, spread more whipped cream over the top and sprinkle with either chocolate shavings or crushed peppermint canes.