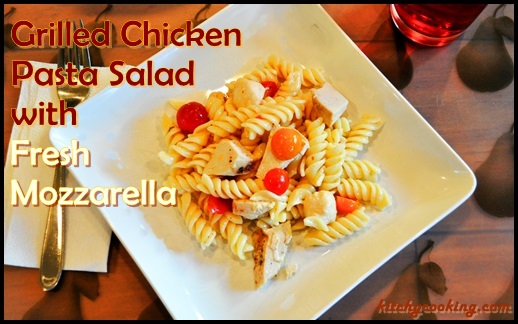 I'm a huge Billy Joel fan. I've been listening to him since I was a kid and his Innocent Man album was released. That album along with his single, Uptown Girl, got me into Billy Joel. No, it wasn't Piano Man, though I absolutely love that song. As a matter of fact, I don't think there's a Billy Joel song out there I don't like. (Being the foodie I am, I'm especially partial to Scenes from an Italian Restaurant.) I'm such a big fan, in fact, every time he's toured I've seen him. And man does he put on an amazing show.
While it's true that Billy hasn't performed in years, back in January he made a deal with Madison Square Garden to perform there every month for the rest of his life. If I lived in New York, I'd make a point of getting tickets to as many of those shows as I could. But I don't live in New York. I live in Los Angeles. Lucky for me, shortly after he made that deal with the Garden he decided to do a mini-tour that included his first ever visit to the Hollywood Bowl. Of course I bought tickets the day they went on sale back in December. The show finally happened a few weeks ago and Hubs and I had a blast. Billy Joel may not be able to hit those high notes any more, but he still puts on one hell of a show.
This is the third time I've seen the Piano Man perform live, but it's the first time I've seen him outside. He usually plays huge indoor stadiums like Staples Center. You're probably wondering what a concert has to do with a food blog. Well, the cool thing about the Hollywood Bowl is that you can actually pack a picnic and bring it into the amphitheater with you. While the Bowl doesn't allow any bottles or cans, you can buy wine, beer or non alcoholic drinks once inside and take them to your seats to enjoy with your meal. Patrons like Hubs and I can get to the theater a good hour or two before the show starts and then sit back and enjoy a nice meal under the stars. It makes for a really fun date night. Don't know what to pack? That's why I'm here.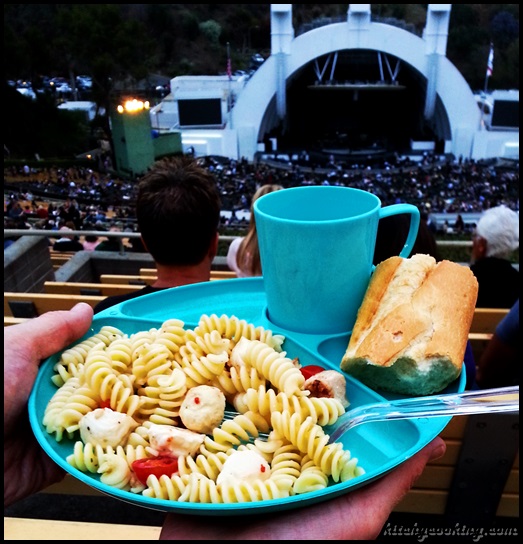 We started with a big baguette, some brie and fresh fruit. Then we segued to this easy, delicious pasta salad and finished off with an equally easy fruit trifle and fresh whipped cream. A couple glasses of white wine accompanied the meal which left us both happily sated. This dinner is perfect for any outdoor locale you might find yourself at this summer from the Bowl to a park or even the beach. And if you're lucky enough to find a location that does allow alcohol, go ahead and bring along your favorite bottle of wine. Not planning any outdoor dinner excursions this summer? Don't worry, this salad is just as tasty on nice plates at the kitchen table as it is outside.
So this summer, whether your singing along to your favorite band, enjoying a warm night under the stars with that special someone, or spending a quiet evening in, this simple summer salad will make your evening a night to remember.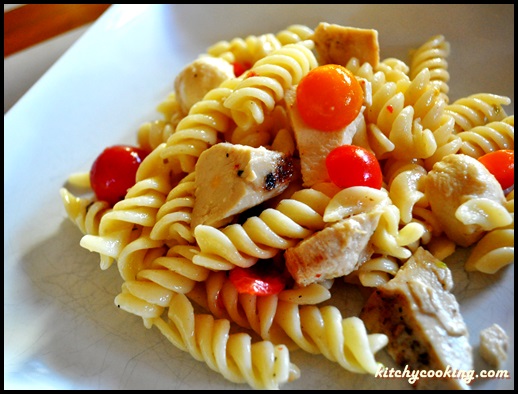 Grilled Chicken Pasta Salad with Fresh Mozzarella
Ingredients:
12 oz. dried fusilli pasta
1 pint of cherry tomatoes, halved
12 oz. marinated mozzarella, halved (you can find this at Trader Joe's)
2 cups grilled chicken, chopped
1/4 cup Italian dressing
Directions:
Bring 3 quarts of salted water to a boil in large pot over high heat. Add the pasta and cook until al dente, 7-10 minutes. Drain in a colander and place in a large salad bowl.

Add the tomatoes, marinated mozzarella and chicken and chill in the refrigerator for at least 2 hours.
When ready to serve, pull the salad out of the fridge, pour the dressing over the pasta and toss to coat. Serve immediately.