Grilled Pork Chops with Peach Barbecue Sauce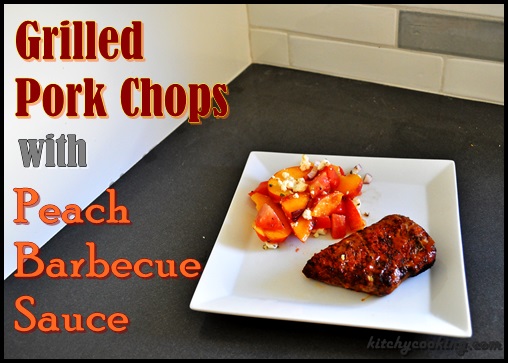 I love this time of year. Not only can I finally pull my tank tops and shorts out of their drawers, but with the beach just a few blocks away, swimming has become my family's national pastime. But this warm weather also means more dinners are being prepared via grill. There's nothing better than cooking outside with that cool ocean breeze blowing through your hair. It doesn't matter if you're having friends over or just cooking for the family. Cooking outdoors can be a blast. Especially when you have the right tools.
OXO was nice enough to send me a grilling care package that included a Silicone Basting Brush and a pair of 16″ Tongs. I already had OXO's regular basting brush which I use constantly so I was thrilled when they sent me their large one. Now I finally had a brush I could use to baste my protein without burning my fingers. This little brush is 14 inches long and holds the liquid from the sauces quite well. Plus its angled head means I won't get sauce all over my nice new countertops.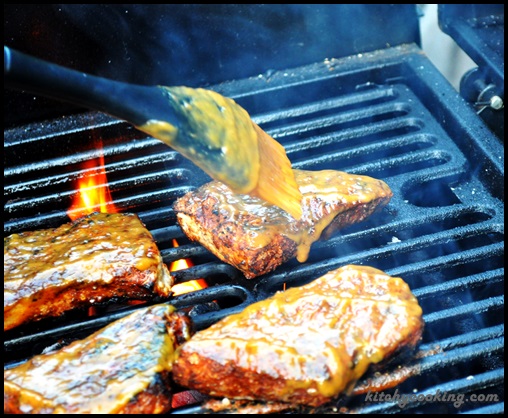 I also own OXO's Nylon Tongs which I'm so in love with I've given them as gifts to friends. So again, you can imagine how happy I was to get an extra long set specifically for the grill. Up until I had these 16-inch tongs, I was using a fork to flip my steaks and burgers, which isn't nearly as handy. I could never get a good grip with a fork and sometimes I'd lose a piece of burger between the grates. With the tongs that's not a problem. I get a good grip every time, and like the basting brush, the extra length keep my hands far from that burning flame.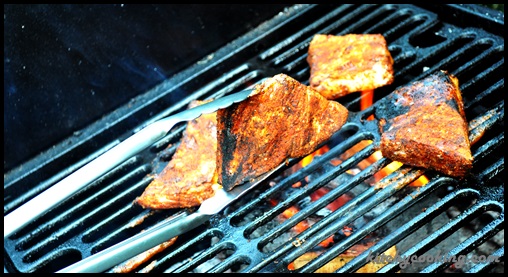 But the tongs aren't just good for picking up chicken or chops, they can handle fruit as well. Yes, I grill fruit; quite frequently actually. The heat makes the fruit even sweeter than it already is, and depending on what kind of wood or charcoal you use there's a smokiness that just can't be achieved indoors. Afraid the juices from the fruit will make it slippery? If it does, the tongs don't know it. They can grab that fruit and flip it no problem. They're actually what I used to make this peach barbecue sauce since the first ingredient is grilled peaches.
This recipe was actually perfect for OXO's care package. Since we're right in the middle of peach season, I'm using and eating peaches every chance I get. And while most people (including me) tend to use peaches for desserts and snacks, I like adding them to savory dishes as well. They bring an unexpected sweetness that rounds out the entrée and delights the tastebuds. This barbecue sauce did all that and more. It wasn't anything like that tomato and molasses sauce that's so common this time of year. Instead it was smokey, sweet and delightfully fruity. It paired perfectly with the pork but would be just as yummy on fish or even chicken.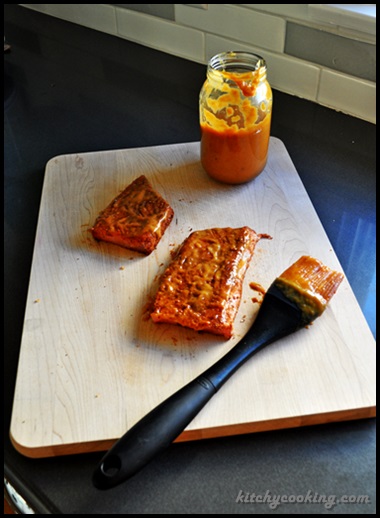 So, thanks OXO for sending me these great tools to improve my grilling experience. It was hard to keep me away from the grill before I had them (just ask Hubs). But now… well it's possible that my beautiful new stove may have been replaced… at least for the next couple months.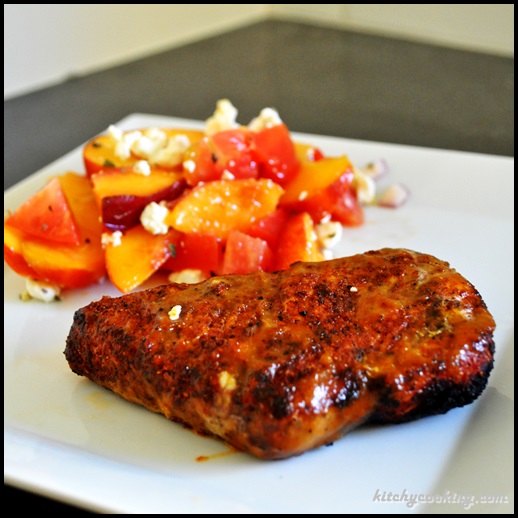 Grilled Pork Chops with Peach Barbecue Sauce
Ingredients:
2 tablespoons coriander
2 tablespoons paprika
1 tablespoon cumin
1 tablespoon smoked sea salt
1 tablespoon ground black pepper
1 tablespoon brown sugar
4 boneless pork chops
3 large peaches, halved
2 tablespoons olive oil
1 medium purple onion, chopped
2 tablespoons fresh ginger, minced
1/2 cup molasses
1/2 cup orange juice
1/2 cup cider vinegar
1/3 cup brown sugar
Directions:
Preheat your grill to 350°F.
Mix together the first 6 ingredients (through the brown sugar) in a bowl until well combined. Generously rub the spices onto all sides of the pork chop. Set chops aside while you make the barbecue sauce.
Oil the grill and place the peaches, cut side down on the grill until browned, 2-3 minutes. Remove from the grill, chop into small pieces and set aside.
Pour the oil into a large skillet and heat over medium-high heat. Add the onions and cook until golden brown about 10 minutes. Add the ginger and cook for another 2 minutes.
Add the molasses, orange juice, sugar, vinegar and salt and pepper to taste. Bring to a boil, then reduce heat to low and simmer until sauce is reduced by half, 15- 20 minutes.
Transfer the sauce to a blender or food processor. Add the grilled peaches and puree until smooth. Pour 1/3 of a cup of the barbecue sauce into a bowl to baste the chops with, then pour the rest into a small serving bowl and set aside.
Baste the chops, and place on the grill to cook, flipping once, until desired doneness, 10 – 15 minutes. During the last minute of cooking on each side, baste the chops again with the sauce. Serve the chops with the extra barbecue sauce.
Disclosure: OXO provided me with the Silicone Basting Brush and Tongs to use and review.  I was not compensated for this review. Any opinions expressed are my own and are not influenced in any way by the manufacturer/PR firm as I only review products that I have personally tested and endorse.