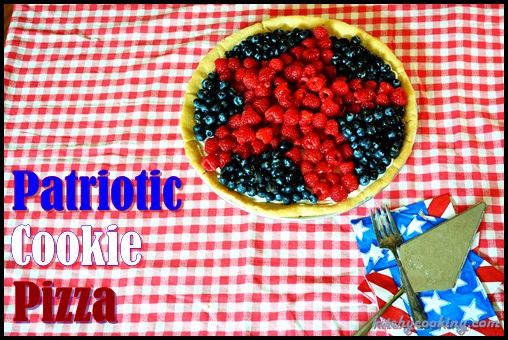 I love magazines. As you know there have been plenty of recipes I've posted that have come from the torn-out pages of many a cooking magazine. While my far and away favorite is  Fine Cooking, I'm also a huge fan of Better Homes and Gardens and Sunset. But today's recipe, didn't come from any of those. Today's dessert came from a magazine I don't think I've ever even opened before. It came from All You. And it couldn't have appeared at a better time.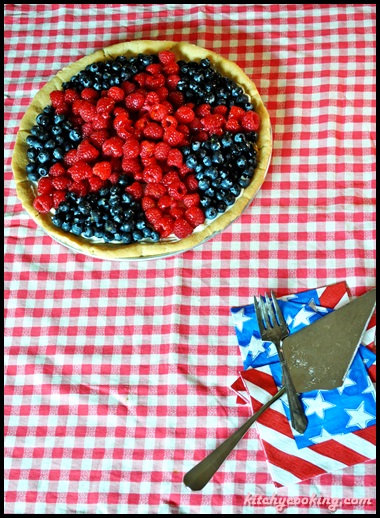 See, I was looking for a dessert for the 4th of July. I wanted something that was simple and sweet, something that was easy to make and would be perfect to take to a picnic or barbecue. And while the design makes it the ideal choice for this Friday's holiday, it will wow friends and family all summer long.
What makes this pizza the perfect summer dessert? It's not only beautiful to look at, it's super easy to make. From start to finish this cookie only took me about 1 hour to prepare. The hardest part was the star design, which in all honesty was not that hard at all. I also love that it's so versatile. Sure, I used raspberries, blueberries and mascarpone, but you could easily substitute strawberries or cherries for the raspberries and cream cheese or goat cheese for the mascarpone. But whichever fruit or cheese you choose, the end result will surely make you the hit of the party.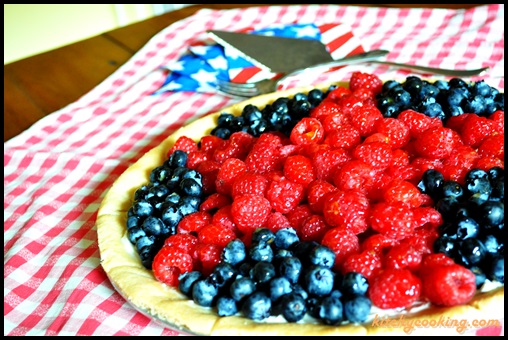 Patriotic Cookie Pizza
Ingredients:
2 rolls Pillsbury Sugar Cookie dough
1 (8 oz.) container mascarpone cheese
1/4 cup powdered sugar
2 cup fresh raspberries
2 cups fresh blueberries
1/4 cup orange marmalade
Directions:
Preheat the oven to 350°F and grease a 12″ pizza pan, set aside.
Slice the cookie dough into 1/4″ slices and place around the pan in a spiral. Using floured fingers, press evenly around the pan to seal the dough together forming one giant sugar cookie crust. Bake for 15-20 minutes or until golden brown. Let cool completely, at least 20 minutes.
In a small bowl mix together the mascarpone and powdered sugar until smooth. Spread over the baked cookie crust.
Arrange the raspberries in the shape of a star in the center of the cookie. Arrange the blueberries in the remaining space around the raspberries.
Heat the marmalade in a small pan over low heat until melted. Brush the melted marmalade over the berries. Slice and serve immediately.