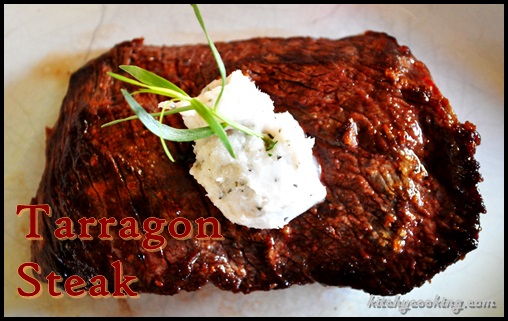 You've heard me talk about the Food Bloggers of Los Angeles. We're a group of food bloggers who get together once a month to discuss our blogs, food and everything in between. That in between could be as simple as discussing the future of social media or as exciting as tours of local farms, restaurants or even markets. This month, we were lucky enough to get a tour of that wonderful indoor market in downtown Los Angeles, the Grand Central Market. If you're like me and you've never been, you need to get over there. The place is amazing and the food choices are out of this world!
I've been wanting to go to the Grand Central Market ever since I saw it featured in the Meg Ryan movie, City of Angels. While the movie isn't anything special, those scenes in the market really intrigued me. It was cool seeing rows and rows of produce housed inside a big warehouse. I originally thought the Market was just a permanent farmers market, but turns out it's much, much more.
The Grand Central Market has been sitting between Broadway and Hill since it first opened in 1917. While it was originally a place to get all your basic groceries from produce to baked goods and coffee, just like the city around it, the market has evolved to include several specialty vendors and restaurants. No matter what you're craving, I guarantee there's a booth for it. Want coffee? G & B Coffee will make it anyway you want. Not sure what to include on your cheese plate for your next party?  Lydia Clarke and her sister, Marnie at DTLA Cheese will help you find the perfect choice by simply asking a couple questions. Looking for fresh pressed juice? Press Brothers has every concoction imaginable and they're so fresh, each bottle has its own expiration date. Looking for that perfect cut of meat? Talk to head butcher, Jered Standing at Belcampo Meat Co. That's what I did, and I couldn't have been happier.
Recently I've been buying steaks at the farmer's markets because they just seem to taste better. I'd love to go to a butcher, but there really aren't any near me. So I was thrilled to meet Jered and hear all about Belcampo. They sell beef, pork, lamb, chicken and duck and they're all bred right here in California. But unlike other butchers (or the supermarket for that matter), Belcampo prides itself on selling and using as much of the animal as they can.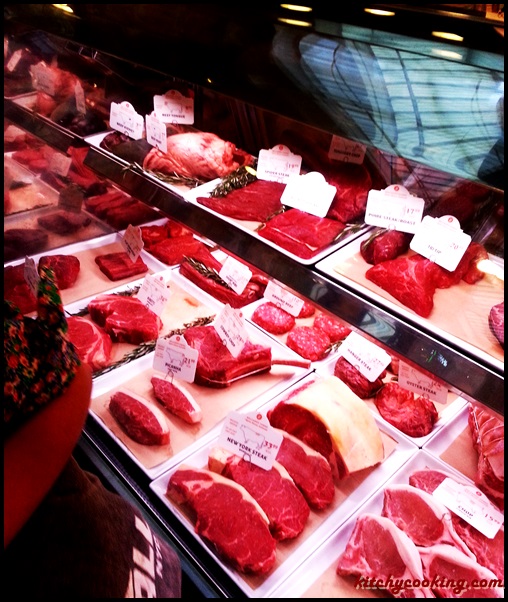 While there weren't any in the display case that day, they do usually have a cow's head or two to sell, beef tongue is very popular, the hides cover banquets in their San Francisco restaurant and they frequently use the bones for soups and stocks. Of course they sell lard, and they make a lip smacking lard butter. But what interested me most was the velvet steak.
I'd never heard of velvet steak before, so I asked about it. According to Standing it's a small piece of meat found buried in the hind shanks. While the meat surrounding the velvet steak can be tough, this is very moist and lean. I was intrigued, so I purchased it and decided to use Ina Garten's marinade of olive oil salt and fresh tarragon. The end result was just as tender and delicious as Standing promised. And adding a dollop of Belcampo's lard butter made it even better.
My experience with Grand Central Market and Belcampo Meats was so amazing I promise to return. But this time I'm bringing a big appetite and lots of cash so I can hit every single vendor Grand Central Market has to offer, including Belcampo's amazing french fries fried in beef fat.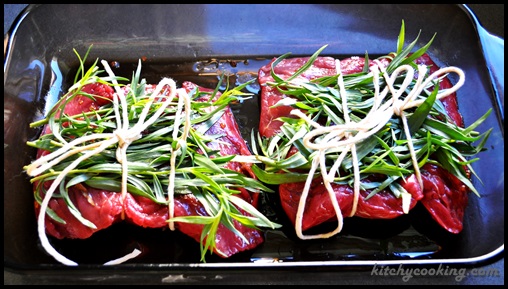 Tarragon Steak
Ingredients:
2 velvet steaks
3 tablespoons olive oil
3 teaspoons smoked sea salt
10 branches fresh tarragon
Directions:
Pat steaks dry with paper towel. Place the steaks in a deep dish and brush all over with the oil. Sprinkle all over with the salt. Place the tarragon branches on the steaks and tie in place with kitchen string to keep them from moving. Marinate in the fridge for at least one hour.
Pour a tablespoon or two of olive oil in a heavy, 10″ iron skillet and heat over medium-high heat until shimmering. Lower the heat to medium.
Remove the branches from the steaks and place them in the skillet. Cook for 7-10 minutes per side for medium-rare. Serve immediately with a dollop of lard butter and your favorite side or salad.