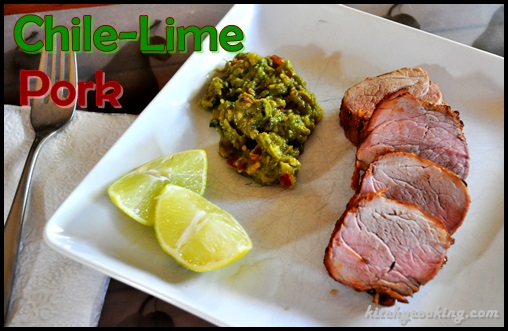 I love summer time – the warm air, the sun not setting until 7:30 or 8, our lovely backyard. All these things make it the ideal kitchen, especially if you love to grill, which I do. But since I'm me, I don't just want to cook hamburgers and hot dogs all summer. I also like grilling steaks, sausages, fish and chicken. The grill not only gives me tons of dinner options, that awesome smokey flavor just can't be replicated on the stove.
Since I'm such a big fan of the grill, I was excited to see this recipe in Better Homes and Gardens. Yes, this is an entreé tailor-made for the grill, but it's the simple marinade that makes the pork loin so flavorful. The fact that this recipe is also super easy to prepare, makes this dish a no brainer when it comes to "what's for dinner". Even if your kids aren't big pork fans (like mine) they'll lap this up because of the lip-smacking marinade. But if you want a guaranteed dinner hit, do as Better Homes suggests and serve it with some guacamole and chips. That way both adults and kids alike will devour this dish faster than you can say summer time grillin'.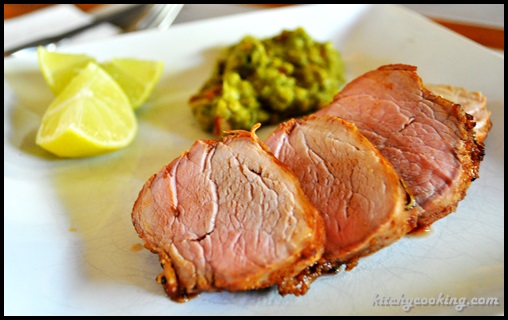 Chile-Lime Pork
Ingredients:
2 limes
1 pound pork tenderloin
1/4 cup cilantro, chopped
2 tablespoons olive oil
4 cloves garlic, minced
2 teaspoons chili powder
1 teaspoon onion powder
1/4 cup tequila
1/2 teaspoon Kosher salt
Directions:
Finely zest and juice the limes.
Place the pork in a large resealable bag. Add the zest, juice, cilantro, olive oil, garlic, chili powder, onion powder, tequila and salt. Seal the bag and turn over a few times to coat. Place the bag in a large bowl and chill in the refrigerator for at least an hour and up to 4.
Preheat the grill to 400°F, once ready adjust the grill for indirect cooking. Drain the pork and discard the marinade. Oil the grill and place the pork on the grate to cook indirectly. Cover and grill for 25 – 30 minutes or until done. Remove and let the pork stand for 3 minutes.
Slice the meat and serve with guacamole, corn chips and lime wedges.