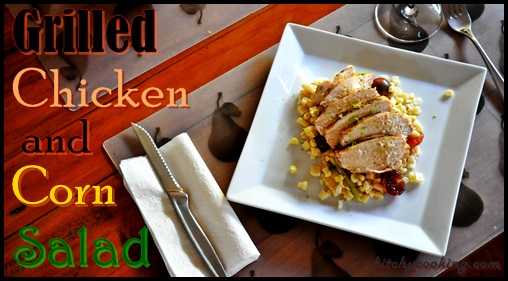 I've been talking a lot about grilling the past few weeks because it's summer, it's hot and God knows I don't want to be stuck cooking inside. So, I've been grilling. While a lot of it has been proteins like chicken and steaks, I've also been grilling vegetables and fruits. The open flames and wood not only add a nice smokiness to the fruits and veggies, they also make produce sweeter, especially corn.
I love corn. It's actually one of my favorite vegetables. So, of course I love this time of year because fresh corn is everywhere. It's impossible to walk through the farmer's market these days without seeing at least a half dozen vendors selling piles and piles of corn. While I'm partial to the white kernels, there are those out there that love the yellow. Then there are those who can't decide and hence you have white and yellow kernels together on one cob. But no matter which corn you prefer, grilling it is waaaaaay better than boiling it on the stove.
While the corn is delicious as a side with butter and salt on it, I prefer to turn my corn into an entrée. So when I found this amazing salad in Food and Wine Magazine I rushed right out and bought several cobs. Even though I adore grilled corn, it isn't those sweet kernels that makes this salad an awesome summer dinner. It's actually the dressing.
This dressing is one of the best I've ever had. It may be simple, but the tart flavor from the fresh lime juice combined with the slight heat from the jalapeños is absolutely amazing. That spicy, tart combination actually makes the corn seem even sweeter than it is. The salad was so pleasing to my palate in fact, I've already made it twice. And since almost all the ingredients are grilled, this has become my new favorite dinner salad. It's not only filling and scrumptious, everyone in the family loved it; which means, as long as corn's in season, this salad will be on our table at least once a week. Maybe it can find it's way onto yours before the summer's over, too.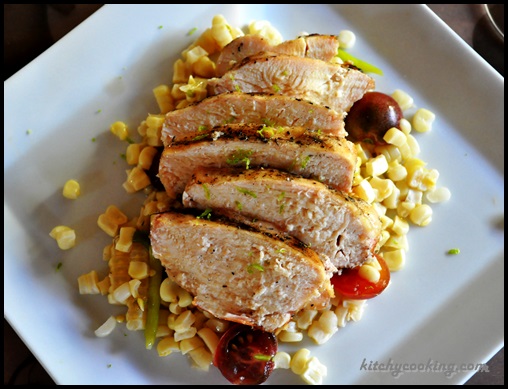 Grilled Chicken and Corn Salad
Ingredients:
1/2 cup fresh lime juice
1/2 cup olive oil, divided
2 tablespoons minced jalapeño
1 tablespoon salt
1/2 teaspoon pepper
4 ears of corn
1 bunch of scallions
4 boneless chicken breasts
1 pint cherry tomatoes
Directions:
In a medium bowl whisk together the lime juice, 1/4 cup olive oil, jalapeños, salt and pepper, set aside.
Preheat the grill to 350°F.
Remove all but the last layer of green husk from the corn. Soak the corn in water for at least 10 minutes.
Toss the scallions with 2 tablespoons of olive oil and salt and pepper to taste.
Coat the chicken with the remaining oil, salt and pepper.
Grill the corn, scallions and chicken, turning occasionally until the scallions and corn are lightly charred and the chicken is cooked all the way through, 5 minutes for the scallions and 12 – 15 minutes for the corn and chicken. Let the chicken rest for at least 5 minutes, then slice across the grain.
Chop the scallions into 1-inch pieces.
Remove the husks from the corn and cut the kernels off the cob.
Transfer the scallions, corn, and tomatoes to a large bowl. Add half the dressing and toss to coat. Spoon the salad onto 4 plates. Top each with a sliced chicken breast, sprinkle with lime zest and serve with remaining dressing.