Lamb and Sweet Onion Pitas
August 13, 2014
by Jennifer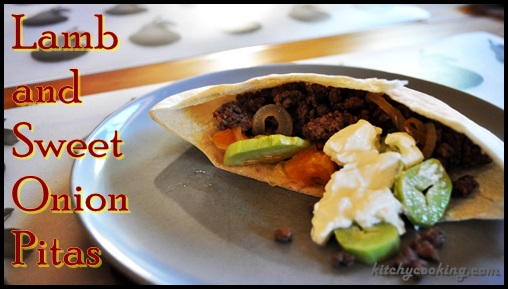 If there's one kind of recipe I love, it's the kind that takes no time to put together. The fact that my boys lap it up every time I make it for dinner is also a huge plus; and it can be made year round. In my book that's the hat trick of dinner recipes.
What's especially wonderful about this recipe is that it falls into the category of "make-your-own". While the whole sandwich calls for lamb, the cucumber/orange salad, plain yogurt and grilled onions stuffed into a pita pocket, there's nothing that says the sandwich isn't just as delicious without the salad or with just the grilled onions.
I love recipes like this because it allows my children to make their own decisions about what their eating that night without turning me into a short order cook. Sure, I'd like for them to eat the sandwich with all the ingredients inside, but I also know that most 5 year-olds and a 2 year-olds just aren't interested in onions (raw or grilled). There are also a lot of adults out there who don't like plain yogurt.
So when making this pita sandwich, do what I do: stuff the pita pocket with the ground lamb and then put everything else in bowls for your family (or your guests) to pick and choose from. This way everyone will be happy. But more importantly, it will guarantee that your family will eat what you've made for dinner. And for me, there's no recipe on earth that can beat that.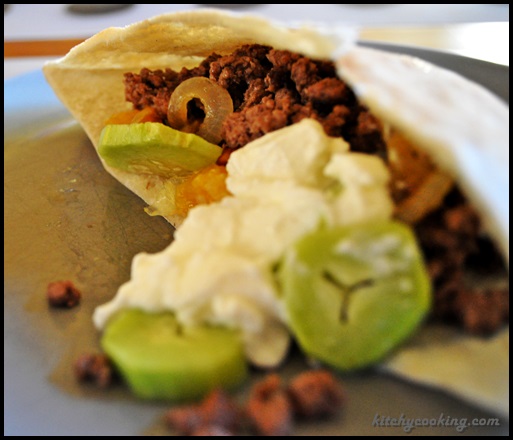 Lamb and Sweet Onion Pitas
Ingredients:
2 tablespoons olive oil, divided
1 medium onion, halved and thinly sliced
salt and pepper to taste
1 pound ground lamb
1/2 teaspoon cinnamon
2 oranges
1 small cucumber, halved and thinly sliced
2 tablespoons red wine vinegar
2 pitas, sliced in half
1/2 cup plain Greek yogurt
Directions:
Heat 1 tablespoon of olive in a large skillet over medium heat. Add about 3/4 of the onion, a little salt and pepper and cook until golden brown, about 10 minutes. Once ready, transfer the onions to a small bowl with a slotted spoon and set aside.
Add the lamb, cinnamon, 1/2 teaspoon of salt and pepper to the same skillet and cook over medium-high heat, stirring occasionally, until cooked through, about 6 minutes.
While the meat cooks, finely chop the remaining onion and place in a medium bowl. Cut the orange segments free from the membranes and add to the bowl. Mix in the cucumber, vinegar and remaining oil and toss to combine.
Once the meat is ready, fill each with about a 1/2 cup of lamb. Add some of the grilled onions and the orange/cucumber salad. Place a dollop of yogurt on top and serve.