Maiden's Prayer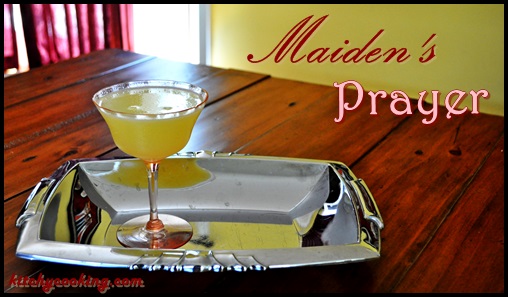 Summer months call for cool, refreshing cocktails. And to me, cool and refreshing usually means something with fruit juice as its main mixer. My favorite mixer is without a doubt, citrus juice. I don't care if it's orange, lemon or lime, as long as it's citrus, I'm happy. Since these are some of my favorite cocktails, I knew I'd love a Maiden's Prayer.
Unlike other citrus cocktails out there, the Maiden's Prayer packs a serious punch because there's triple the alcohol in one glass. That's right, where some drinks are equal parts liquor and mixer, (or even more mixer than liquor) this one is all liquor with just a splash or two of mixer to give it that bright citrus flavor. That extra alcohol also helps do what the cocktail was created for – ply the weaker sex. Hey, I didn't create the cocktail, but honestly, with a name like the Maiden's Prayer, what did you expect? While the drink may make it easier to lose one's inhibitions, the real reason to taste this cocktail (and the reason it's one of my faves) is that the lemon and orange juices don't overpower it. Instead, they compliment the gin making that the reason you should shake up a Maiden's Prayer to woo that special someone.
In 1856 Thekla Badarzewska-Baranowska published a simple piano piece called "La prière d'une vierge." It took Europe by storm and quickly jumped over to these shores, whereupon John Stowell Adams added some lyrics and re-titled it "A Maiden's Prayer." Of course it was a big hit. So several years later (though no one knows why it took so long) Frank Newman, a Parisian bartender, created his version of a Maiden's Prayer. His version, made of rum, orgeat syrup, créme de menthe, curaçao and champagne is not the version we all know and love today. It's also not the refreshing cocktail anyone would dream of ordering during these dog days of summer. The modern version showed up on the bar scene around 1930, isn't nearly as complicated and is definitely more palatable.
Having sampled both, I'm here to tell you that the 1930's version is the one to shake up, especially if you're a citrus fan. And if you are looking to woo someone, this drink will definitely put them in the mood.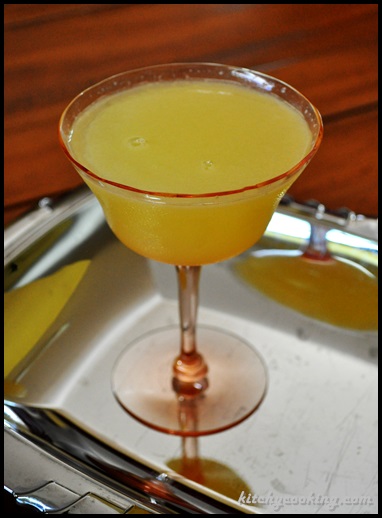 Maiden's Prayer
Ingredients:
1-1/2 oz. dry gin
1 oz. Cointreau
1/2 oz. lemon juice
1/2 oz. orange juice
Directions:
Pour all ingredients into a cocktail shaker. Add ice and shake vigorously for 1 minute. Strain into a chilled cocktail glass and serve.