Sweet Corn Risotto
September 17, 2014
by Jennifer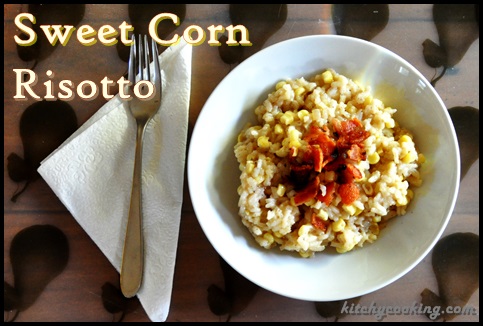 I'm so over the heat. It's been hot and sticky here in Southern California for weeks now. While I've never been a fan of hot weather, I especially hate humidity. But evidently Mother Nature forgot that we don't live on the east coast and has graced us with some serious humidity. It's been awful. So awful in fact that the idea of cooking has been an absolute turn off. I know. Me having no desire to cook means the universe is seriously out of alignment. Unfortunately I and the rest of my family still have to eat which means I have to cook.
But just because I have to get dinner on the table doesn't mean it has to be made on a stove or in an oven. As a matter of fact, there are tons of options that don't involve turning those little dials. There's the grill, which I adore because it gets me outside. There are salads which just involve chopping fresh fruits or vegetables. Or if you really want to cook, there's the slow cooker.
Have I told you how much I love my slow cooker? It makes cooking so much easier. Just chop up the ingredients, put them all inside, turn on the pot, set the timer and voilà, you're done. It's cooking without standing over a hot stove. There's no stirring, no waiting for the butter to melt, no standing over a hot stove… I know I already said that. But in this heat, that's a huge plus. The kind of plus that puts a big ol' smile on my face. I'm pretty sure it'll put one on yours too.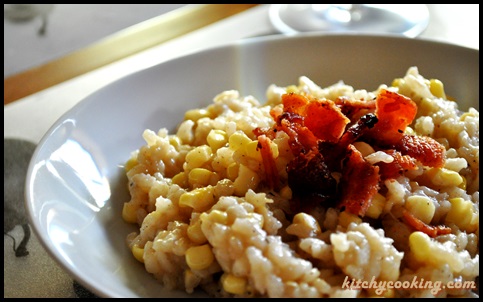 Sweet Corn Risotto
Ingredients:
6 slices of bacon
4-1/2 cups chicken broth
1/2 cup onion, chopped
1/2 cup dry white wine, like Chardonnay
2 cups arborio rice
4 ears of white corn, kernels cut from the cob
1/2 teaspoon salt
2 tablespoons butter
Directions:
Cook the bacon in a large skillet over medium heat until crisp. Drain the bacon and reserve 2 tablespoons of bacon fat in skillet. Crumble the bacon and set aside.
Add the onion to the reserved fat in the skillet and cook until tender, about 4 minutes.
Add the wine to the skillet and simmer for 2 minutes, scraping up any browned bits. Stir in the rice and transfer the mixture to your slow cooker. Stir in the broth, corn and salt. Cover the slow cooker and cook on high for 90 minutes or until the rice is tender and the liquid has been absorbed. Stir in the butter until melted.
Spoon the risotto into four bowls, top with the crumbled bacon and serve.