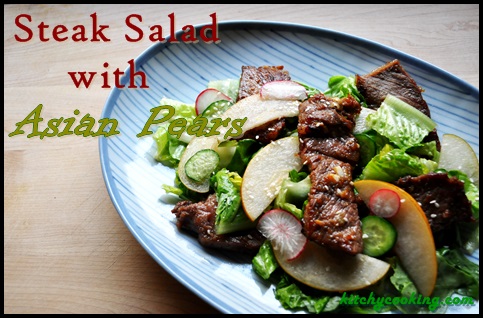 While it may not feel like Fall here on the west coast, we are, in fact, smack dab in the middle of it. You know how I can tell? Because the produce is changing. Peaches, plums and pluots are starting to be replaced by pears, apples and citrus.
Since the produce is changing, it would make sense that the weather would change too, right? I wish. Just last weekend it was in the high 80's… again! And when it's that hot, the last thing I want to do is cook. So salads or cold soups are my go to's. But while a salad of tomatoes and fresh veggies makes a great side or lunch option, I need a little protein for dinner. So when I saw this steak salad in Fine Cooking, I knew I had the perfect dinner for me and my family.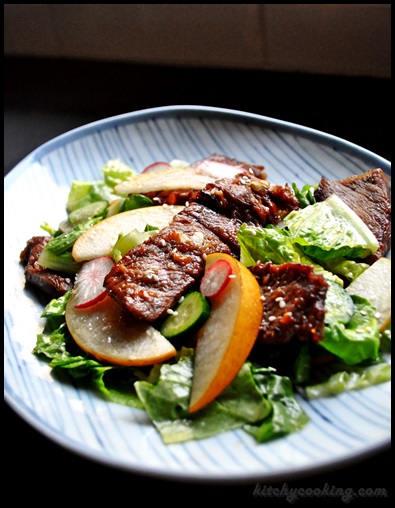 But this isn't just simply a steak that's sliced and thrown on top of the lettuce. This steak is marinated in the same pears that make up half the salad. So you get a delectable sweet tang when you bite into the steak while getting the same sweet crunch from the pears in the salad. It's wonderful. What makes it even better though, is that you decide how sweet your steak will be by simply choosing how long to marinate it. I've already made this salad twice and the first time I marinated the steak for 4 hours. The second time I only marinated it for an hour. While the steak was good, it wasn't nearly as sweet.
No matter what you decide, this salad is a wonderful dinner choice for this time of year. The pears provide a delicious crunch and combine perfectly with the sweet strip steak. As I said, I've already made it twice, but I'm pretty sure it will find its way back on the dinner table before pear season is over.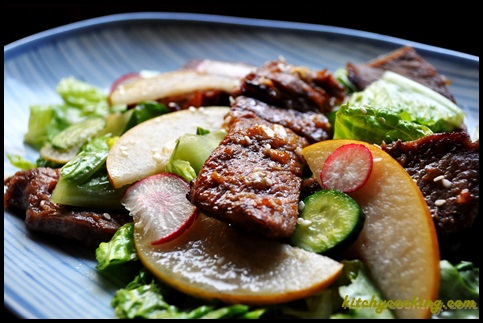 Steak Salad with Asian Pears
Ingredients:
1 pound boneless strip steak
2 medium Asian pears
2 cloves of garlic, minced
1 tablespoon fresh ginger, minced
1/4 cup mirin
3 tablespoons lemon juice
2 tablespoons soy sauce
1-1/2 tablespoon sesame oil
1 tablespoon sesame seeds
2 tablespoons rice vinegar
2 teaspoons fish sauce
1 head of butter lettuce, torn into bite-sized pieces
1 small romaine heart, torn into bite-sized pieces
4 radishes, thinly sliced
1 small cucumber, thinly sliced
1 tablespoon vegetable oil
Directions:
Slice the steak against the grain 1/8-inch thick and set aside.
Peel and core one of the pears. Cut it in half. Grate one half on the small holes of a box grater into a medium bowl. Add the garlic, ginger, mirin, 2 tablespoons of lemon juice, two tablespoons of soy sauce, 2 teaspoons of sesame oil, 1 teaspoon of sesame seeds, salt and pepper to the bowl and whisk together. Add the beef and toss to coat. Cover and chill in the refrigerator for at least 30 minutes and up to 4 hours.
In another bowl, whisk together the rice vinegar, fish sauce, remaining lemon juice, 1 teaspoon of soy sauce, 1 tablespoon sesame oil and 1 tablespoon of sesame seeds and set aside.
Toss the lettuces together with 3 tablespoons of the dressing. Divide the lettuce among 4 dinner plates.
Core and thinly slice the remaining pears. Place the pears, radishes and cucumber in the bowl with the remaining dressing. Toss to coat and scatter over the lettuced plates.
Drain the beef and pat dry. Heat the vegetable oil in a large skillet over medium heat. Scatter half the beef in the skillet and cook, flipping once, until browned and barely cooked through, about 2 minutes. Transfer to a bowl and repeat with the remaining beef. Top the salads with the beef and any accumulated juices and serve.