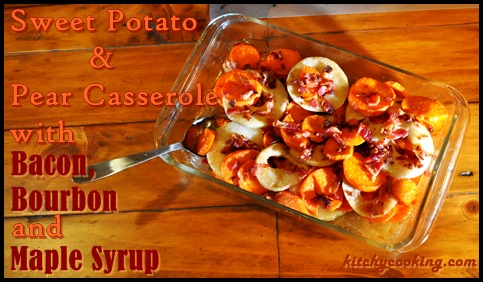 Sorry I've been MIA recently, but I had a family emergency a couple weeks ago and that's where all my focus has been. But the good news is that things are much better now and the prognosis is very good. All this family upheaval though (yes, a member of my family was in the hospital) has made me realize once again how important my family is to me and how much I love Thanksgiving.
See, Thanksgiving has always been the one holiday where our entire family has gotten together. Growing up it was always a big event and now that I'm married with my own family that event has gotten even bigger. (I hosted over 25 people last year and that's peanuts compared to some years at my mother's house.) Everyone comes from all over and we all cook, eat and talk. While it can get stressful… "how are we going to fit everyone," "do we have enough food," "what do you mean there's no pie,"… everyone still has a good time and the food is always amazing.
Part of the reason the food is always so good is because everyone contributes. That's right, I grew up in a house where Thanksgiving was potluck. Yes, the host was always in charge of the turkey, stuffing and gravy. But that was it. The sides, appetizers, wine and desserts were all brought by other guests. It's great because there's no stress about having to make everything, and if someone loves making apple pie or just has to have brussel sprouts, they get to make their favorite recipe to share with everyone else.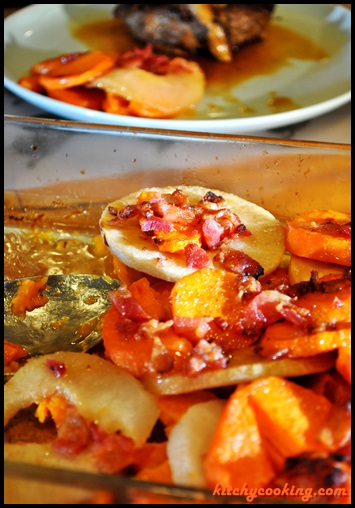 While I've always been in charge of desserts, there has been the occasion when I've been asked to make a side. My two favorite Thanksgiving sides have always been the green bean casserole and anything made with yams. So since it's only a week until Thanksgiving, I thought I'd share a delicious yam casserole that you can make at your next Thanksgiving feast. The fact that it also has bacon and bourbon in it makes it an absolute no-brainer.
This side dish isn't mine, however, it comes from Rick Rodgers and his Big Book of Sides. I was lucky enough to sample some of Rodgers sides thanks to Melissa's Produce and let me tell you, every single dish was better than the last. After tasting just a sample of what was in this book at Melissa's, I couldn't wait to get home and flip through it. That's how I found this sweet potato dish and I was so happy I did. Not only is it delicious, but it's super versatile too. I had Asian Pears from Melissa's so I used those instead of the suggested Bosc, and since Hubs is allergic to nuts, I left out the pecans all together. Also if you don't want to use the alcohol because of the kids (though two tablespoons isn't that big a deal) apple juice works great!
Even with all the changes I made, I think the real reason the kids loved the casserole (and Hubs and I as well) was because of the bacon and maple syrup. Then again, who doesn't love bacon and maple syrup?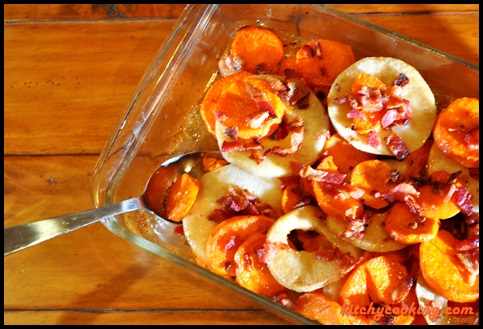 Sweet Potato & Pear Casserole with Bourbon, Bacon and Maple Syrup
Ingredients:
2 pounds sweet potatoes, peeled and cut into 1/2-inch rounds
4 slices bacon
2 tablespoons unsalted butter
1/2 teaspoon cornstarch
2 tablespoons bourbon
1/2 cup pure maple syrup
2 Bosc pears, peeled, cored and cut into 1/4-inch slices
salt and pepper to taste
1/3 cup chopped pecans
Directions:
Preheat the oven to 400°F.
Bring a large pot of salted water to a boil over high heat. Add the sweet potatoes and cook until they start to soften. Drain, rinse and pat them dry with paper towels.
While the potatoes boil, cook the bacon in a large skillet over medium heat, turning once, until it's crisp and brown. Transfer the bacon to paper towels to drain and cool.
Pour 2 tablespoons of the bacon fat into a 13 x 9 baking dish, brush to coat all over the inside of the pan. Discard the remaining bacon fat.
Melt the butter in a small saucepan.
While the butter melts, sprinkle the cornstarch over the bourbon in a small dish and mix until the cornstarch is completely dissolved. Pour the bourbon mixture and maple syrup to the saucepan and cook, stirring constantly until simmering and thickened, about a minute or two.
Arrange the sweet potatoes in two slightly overlapping rows in the baking dish. Randomly tuck the pear slices between the sweet potatoes. Pour the syrup mixture evenly over the sweet potatoes and pears and season them with the salt and pepper.
Bake, occasionally using a bulb baster to baste the sweet potatoes and pears with the syrup mixture in the baking dish, until the top begins to brown and the sweet potatoes are tender, about 30 minutes. Coarsely chop up the bacon and sprinkle it along with the pecans over the top of the casserole and bake for another 5 minutes to heat the topping. Serve immediately.
(The casserole, without the bacon and pecan topping, can be made up to a day ahead, cooled and refrigerated. When ready to serve, cover and reheat at 350°F for 20 minutes. Add bacon and pecans and follow rest of directions.)