Rice Krispie Cherry Balls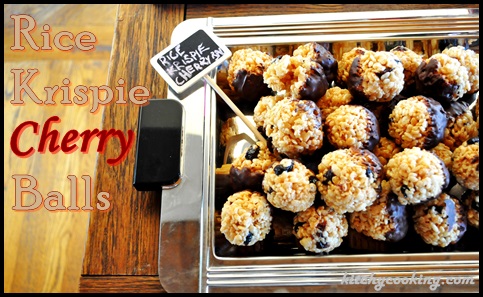 I've never been a big fan of Rice Krispie treats. They were always too sweet.  Too sticky.  Too time consuming.  And that was the main problem. Two boys means I just don't have the time to stand over the stove stirring marshmallows for an hour. But then I discovered a recipe in Better Homes and Gardens that said I could make them in the slow cooker.
Wait, what?! I had to reread the recipe. And it was true. I just had to put the marshmallows and butter in the slow cooker on low for an hour, stir once, add the Rice Krispies and voilà, cookies. But since it was the holidays and the annual FBLA cookie swap was coming up, I wanted to do something special. So I added dried cherries, rolled them into little balls and dipped them in chocolate.
The dried cherries were the perfect addition. I don't know why I'd never tried it before. Since they're tart, they cut that super sweetness I've always associated with your standard Rice Krispie Treat. And since cherries go so well with chocolate, it was a no brainer. They were scrumptious, and a nice addition to the cookie swap. But the best news was, since I brought a whole batch, I was able to trade my cookies for some other delicious treats by some of my favorite food bloggers.
If you're looking for some new cookies to share this holiday season, try mine. But if Rice Krispies and cherries aren't your thing, there were several other delicious options from several other bloggers. Try them all. I did and I'm just sorry I didn't have more.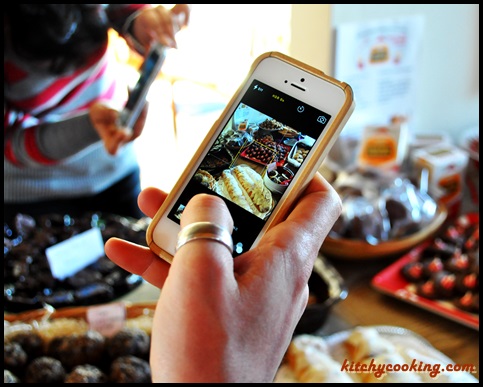 Cooking on the Weekends made an Everything Cookie.
She Paused 4 Thought made her Mother's Apple Strudel.
My Imperfect Kitchen made Linzer Cookies.
Within My Means made Peanut Butter Chickpea Blondies.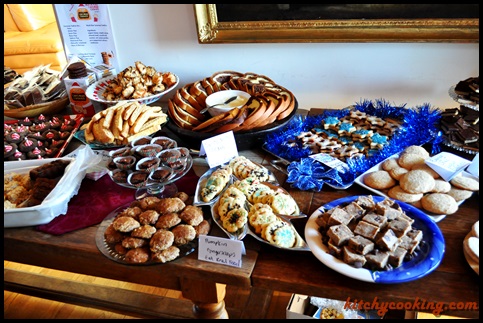 Rice Krispie Cherry Balls
Ingredients:
10 cups mini marshmallows
6 tablespoons butter, cut up
8 cups Rice Krispies
1 cup dried cherries, chopped
1 cup semi-sweet chocolate chips, melted
Directions:
Grease the inside of a 4-6 quart slow cooker. Add the marshmallows and butter, cover and cook on low for an hour or until the mixture is melted and smooth. Add the Rice Krispies and cherries and stir to coat evenly.
Using buttered hands, scoop and shape the cereal mixture into 1-inch balls, place on a buttered sheet of foil and let stand at room temperature until firm.
While the balls are firming up, melt the chocolate in a double boiler until smooth. Once the balls are firm, dip each one into the chocolate, then place on a piece of parchment and let the chocolate harden. Serve.