Pisco Sour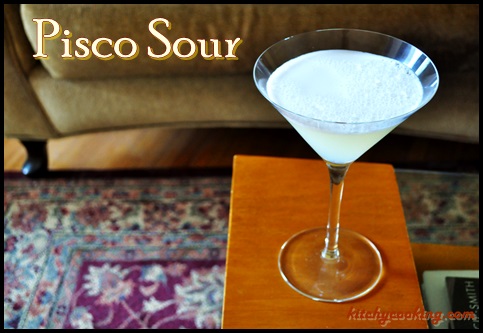 Since we're still smack dab in the middle of citrus season, I thought I'd continue with the Sour cocktails this week. So, today I'm bringing you the Pisco Sour. While I'm not usually a fan of the sour beverages because they are so sour, the Pisco is actually pretty sweet.
The sweetness can most likely be attributed to the Pisco itself. See, unlike the gin or whiskey of my previous Sour cocktails, Pisco is made from grapes. Both gin and whiskey are made from grains and then flavored with either botanicals or barrel aging respectively. But since grapes are inherently sweeter than grains, nothing's added to create the brandy. They're simply distilled like wine.
Even though the Pisco Sour is sweeter than the gin or whiskey version, the actual cocktail itself will have a different flavor depending on whether you use Chilean Pisco or Peruvian. While Peruvian Pisco uses anywhere from one to eight grape varieties that are distilled once in a steel or glass container, Chilean Pisco is made up of only three grape varieties and can be distilled several times in a wooden barrel. So, you can see how a Chilean Pisco Sour can taste totally different from a Peruvian Pisco Sour.
While most believe the Pisco Sour was created by Victor Morris at his bar in Lima, Peru sometime in the 20's, a very similar cocktail was documented in a cookbook from 1903. So, why wasn't the cocktail created in 1903? Well, said cocktail may have shared most (if not all) the same elements as the Pisco, but it wasn't called a Pisco and it didn't have any specific measurements. It was all according to taste. So, maybe Morris had tasted the cocktail and simply decided to give it name and add measurements or maybe the original auteur was never interested in writing down his concoction. How ever the Pisco Sour came into existence though, one thing is certain – it's a delicious creation well worth it's place in cocktail history.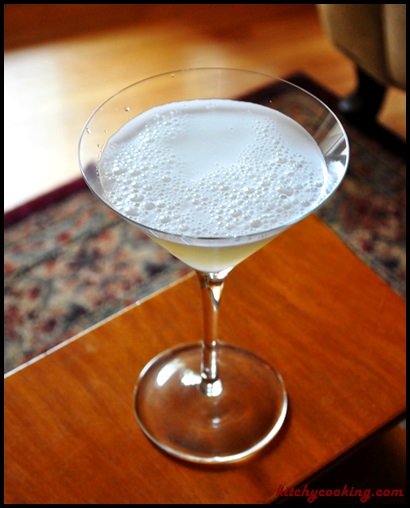 Pisco Sour
Ingredients:
1-1/2 ounces Pisco brandy
1/2 ounce lemon juice
1/2 ounce simple syrup
1 whole egg white
1-2 dashes Angostura bitters
Directions:
Combine the first four ingredients (through the egg white) in a cocktail shaker. Add ice and shake vigorously for about a minute to make sure the egg white is nice and frothy.
Strain into a cocktail glass. Add the bitters and serve.